It may be beginning to look a lot like Christmas, but Rich Forney is worried it sure won't sound like it.
Forney, administrator of the Salvation Army's Lawrence operations, said the nonprofit's annual bell-ringing campaign was facing its most serious shortage of bell ringers in years.
On Monday, only nine bell ringers showed up to staff the 19 locations the Salvation Army has around the city. So far, only 35 people have signed up for the holiday season. Forney said the organization typically needed at least 65 people on its list to ensure it could have a bell ringer at each of its red kettles.
The kettles usually operate from 11 a.m. to 8:30 p.m. weekdays and 9 a.m. to 8:30 p.m. on weekends through Dec. 24.
Forney budgeted to receive $85,000 through kettle donations this year, but said he knew he wouldn't reach that goal if the number of bell ringers didn't increase.
"We could lose $30,000 to $40,000 very easily," Forney said. "We'll definitely be hurting if we don't get more people."
The money collected through the kettle campaign is used to finance the Salvation Army's social service fund. Forney said he was uncertain why the number of interested bell ringers had declined.
He said the Salvation Army was now required by its national headquarters to do more thorough background checks on people who want to serve as bell ringers. The organization is conducting the checks, which can take as long as five days, to make certain child predators and other inappropriate people aren't staffing the kettles.
The campaign already was off to a rough start. Last month, Salvation Army officials were notified they would no longer be allowed to have their kettles outside Lawrence's SuperTarget store because it violated the company's no-solicitation policy.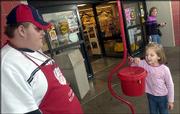 Forney estimated the removal of that location would result in a loss of $25,000 in donations. He said he secured agreements from the two Hy-Vee Food and Drug Store locations in the city to help minimize the loss of SuperTarget.
Previously, the Hy-Vee stores had allowed the Salvation Army to have a kettle at one of the two doors at each store. Now, bell ringers will be allowed at both doors.
The Salvation Army is accepting food donations for Thanksgiving care packages through Monday, administrator Rich Forney said.Especially needed are turkeys, cranberries, instant potatoes, butter, yams and stuffing.To donate, take items to the Salvation Army, 946 N.H., from 8:30 a.m. to 4 p.m. Monday through Friday and from 8:30 a.m. to noon Saturday.
"They really stepped up for us," Forney said.
The Salvation Army accepts volunteers for the bell-ringing positions or will pay people $6.50 an hour to staff the kettles, Forney said. Anyone interested can either call the Salvation Army at 843-4188 or stop by its offices, 946 N.H., from 8:30 a.m. to 4 p.m. Monday through Friday.
Copyright 2018 The Lawrence Journal-World. All rights reserved. This material may not be published, broadcast, rewritten or redistributed. We strive to uphold our values for every story published.