It's called the Gay Straight Alliance, but most students zero in on "Gay" and ignore the rest.
"It's not the gay club. It's not just for gay people," said Anthony Foust, a junior and member of the Gay Straight Alliance at Lawrence High School.
With increasing gay and straight members, students in the Gay Straight Alliance at LHS and Free State High School provide support for gay teenagers and those who are in the process of coming out. They also strive to erase stereotypes and increase awareness among students about sexuality and issues facing gays.
"We want them to be tolerant, to watch what they say," said Rachael Beaumont, senior and alliance officer at LHS. "People say things like, 'That's so gay,' and it makes me mad when people are shooting off these words without knowing the meaning."
The Gay Straight Alliance at LHS began in the fall of 2003 after a group of students expressed their desire for the organization to school librarian Arla Jones.
Jones took Beaumont and a handful of students to a state conference for alliance members, and the students decided to start the Lawrence Gay Straight Alliance. Students from Free State High School attended the LHS meetings until they started their own organization this fall.
Foust said coming out in high school could be a lonely time for students. With a student population of almost 1,300, he said it was likely more LHS students were gay but not coming out.
"Nobody is coming out in high school because they're scared," Foust said.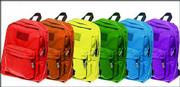 The alliance is a way for gay students to meet other students and to share their experiences and problems, he said.
So far, organizations in both high schools have experienced problems ranging from Bible verses written on alliance flyers to letters attacking students slipped into lockers. Jones, who serves as one of three advisers for the group, said there weren't as many conflicts as she would have expected.
Beaumont said most LHS students have now accepted the alliance. She said members marched in their homecoming parade with a drag queen and received a lot of positive feedback from the crowd.
On Oct. 11, members of Free State's alliance passed out rainbow stickers in honor of National Coming Out Day. Dwayne LaForce, a sophomore and one of the creators of the group, said the event was a huge success.
"I saw hundreds of people wearing them, and I'd say only about one out of every five people I offered a sticker to refused," LaForce said. "I didn't receive any negative reactions and have not heard of any from anyone else."
In addition to these activities, alliance members in both schools discuss and debate such issues as gay marriage in the hopes of educating more students. But above all, members said they wanted to promote open-mindedness and tolerance of others.
"Being gay isn't a disease; it's not a phase," Beaumont said. "It's just another unique trait that makes people different."
31Percentage of LGBT (lesbian, gay, bisexual, transgender) students nationally who missed at least one entire day of school in the past month because they felt unsafe.81Percentage of teachers who never or rarely intervene when homophobic harassment occurs in their own classrooms.39.7Percentage of students who report there are no teachers or personnel who are supportive of LGBT students at their school.By the end of the 2002-2003 school year, 1,864 student clubs had registered with the New York-based Gay, Lesbian and Straight Education Network, or GLSEN. High schools in the following Kansas towns have registered clubs with GLSEN: Lawrence, Basehor, Gardner, Leavenworth, Manhattan, Salina, Shawnee, Mission, Topeka and Wichita.Source: Gay, Lesbian and Straight Education Network
Copyright 2018 The Lawrence Journal-World. All rights reserved. This material may not be published, broadcast, rewritten or redistributed. We strive to uphold our values for every story published.