Now Kansas University's basketball players know how Purdue felt Monday night.
Just like the unranked Boilermakers, the No. 1-ranked Jayhawks of NCAA Division One struggled to a nine-point exhibition victory -- 79-70 -- over the Division Two Ichabods on Sunday night at Allen Fieldhouse.
"I think that team could beat a lot of folks," KU coach Bill Self said after watching his team make one fewer basket and one fewer three-pointer than the 'Bods, but cash 12 more free throws.
"For the most part, it was a pretty stale performance tonight," he said of his Jayhawks, who made 24 of 59 shots for 40.7 percent and five of 16 threes. "Hopefully this will be a motivating factor and wake-up call for everybody."
The Jayhawks, who were sparked by the play of Christian Moody (10 points, five boards) and Russell Robinson (seven points, four assists), open for real Friday versus Vermont.
"We've got a lot of stuff to work on," Self said.
Like how to effectively counteract teams that double-team senior Wayne Simien when he accepts passes in the post.
With Aaron Miles and Keith Langford having off nights from the outside -- the two hit two of nine threes on a night the experimental 20-foot, 9-inch arc was used instead of the 19-9 arc -- Simien was hounded, and it showed in his stats.
Simien, who hustled his way to 15 rebounds, missed seven of 10 floor shots and finished with 13 points.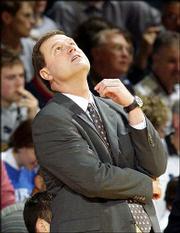 "I expect it will be like that a lot," Simien said of teams doubling and tripling him. "It's part of the game. It's a matter of me making good decisions out of the double-team, finding the open man, something I didn't do tonight with five turnovers. It's a good thing we've got five more days before Vermont."
Simien thinks the Jayhawks, who coincidentally beat Washburn by the same margin of victory as Purdue on Monday night (81-72), will respond well to double-teams and gimmick defenses.
The Jayhawks, however, will have to bring better intensity starting Friday, he indicated.
"That may have been a factor, not coming out geeked up tonight like we were against Emporia State," Simien said of last week's 115-70 exhibition victory over the Hornets. "Being at Kansas, everybody's going to come after us."
Washburn never backed down Sunday. The Ichabods led, 19-10, seven minutes in, and despite falling behind, 39-30, sliced the gap to 42-37 by halftime.
KU led, 59-54, with 9:11 remaining in the contest, before Robinson and Moody took command.
Robinson hit a three, then fed Moody for a bucket. Next, Moody put back a J.R. Giddens miss in a 7-0 surge that boosted the lead to 66-54 at 8:22. Simien followed with a free throw at 7:57 to give the Jayhawks their biggest lead of the night at 13 points.
"Do we win the game without Christian and Russell playing really well the second half?" Self asked. "We may have, but those two were the best performers the second half."
Robinson also had a steal at midcourt and layin to give KU a 52-47 lead five minutes into the second half and a driving layup to give KU a 59-51 lead at 9:56.
"I thought our best perimeter player hands down was Russell Robinson," Self said of the freshman guard who finished with seven points and four assists.
Junior forward Moody had 10 points and five boards.
Perimeter player Giddens was yanked from the lineup just 40 seconds into the second half for allowing a layup.
Giddens, who returned five minutes later, scored 10 points, missing five of eight shots.
9Washburn's biggest lead, at 19-10 midway through the first half12KU's advantage in points scored at the free-throw line9Washburn's advantage in bench points
Langford, who scored eight straight points early in the second half by hitting two threes while seeing another roll in and out, missed seven of 11 shots. Michael Lee made one of three shots in 16 minutes.
"I told the guys after the game, there's not much difference in guys," Self said of the perimeter players. "Whoever guards the best, whoever the team is better off with in the game, whoever gives us energy. To be quite honest, I could see playing any of the combinations."
In the final analysis, Self thinks the close call will be good for his team.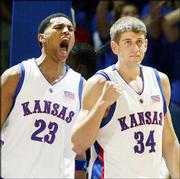 "Things have come pretty easy for the most part. That was good for our freshmen to play in a game where possessions are magnified. It's good for our five returning players to maybe collectively not play as well and get their minds refocused to the point we know what we have to do to win games," Self said.
"I never felt there was an urgency to play to win the game. We were just playing. The last five minutes, it was pretty evident."
It's also evident Washburn has a pretty good Division Two team.
"I think there's no question, tonight Washburn could have beaten a lot of people," Self said. "I do think this ... we had a great home crowd. I know it's a big game for them and should be for us too. They didn't shy away at all."
Copyright 2018 The Lawrence Journal-World. All rights reserved. This material may not be published, broadcast, rewritten or redistributed. We strive to uphold our values for every story published.