Lawrence's smoking ban is becoming a numbers game.
As the smoke cleared from indoor public places after the ban was passed in July, opponents and proponents began looking at numbers -- of customers, drinking establishments and businesses blaming the ban for failure -- to determine the real impact.
But like most issues related to the ban, the two sides aren't agreeing on what the numbers mean.
Taverns and restaurants blaming the ban for loss of business? Ban supporters say the city has too many taverns and restaurants, and a shakeout is inevitable.
Ban supporters saying the ban is about public health and workplace safety? Opponents declare it's social engineering and government is meddling with the free market.
The latest numbers, of liquor excise tax collections during the ban's first few months, are no different.
On one side are people like Michael Fox, an associate professor at Kansas University Medical Center, who says the data back up his claim that the smoking ban is not hurting sales at area bars and restaurants.
Fox recently compiled a report of the 10 percent tax any bar or restaurant that serves liquor must charge for August and September. He compared this year's numbers with those from the same period a year ago. The findings: Lawrence bars and restaurants collected $356,397 during the two months immediately after the ban began. That was up 0.9 percent from the same period a year ago.
"What that tells me is the hospitality industry's constant whining of this ban being an economic disaster is not founded," Fox said. "They have tried to create an atmosphere of impending doom, and that isn't the case."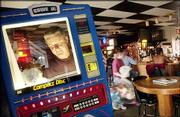 But the other side uses the same numbers to argue the opposite is true.
Phil Bradley, executive director of the Lawrence-based Kansas Licensed Beverage Assn. and a ban opponent, said Fox's study proved the ban was hurting bars and restaurants.
That's because while Fox's study found there was a small increase, the growth rate of the city's liquor excise tax has slowed dramatically since the ban began.
Slower growth
The 0.9 percent increase was down from an 8.3 percent increase during the same period a year ago. Historically, the city's liquor excise tax collections have varied widely from month to month, but posted an annual growth rate of at least 6 percent every year since 1999.
"What this study says to me is that we're way below the growth curve and that business is down at most establishments," Bradley said.
And he said the study was incomplete because it did not factor in the effect of inflation. Bradley said many bars and restaurants had raised drink prices to keep up with increases in the cost of living. Bradley said if bars and restaurants were selling the same number of drinks, the tax collections should have increased by at least 3 percent because the tax is a percentage of the retail price of each drink.
Bradley said Fox's study also failed to consider that the number of bars and restaurants that serve liquor had grown to 113 in 2004 from 110 in 2003. He said that meant each bar and restaurant is collecting fewer dollars in taxes, meaning fewer sales.
'Oversaturated'
Others have said the number of bars and restaurants might be the larger reason some are now suffering.
"I don't doubt that some people are hurting," said Lawrence City Commissioner Boog Highberger, who voted for the ban. "But part of the issue is that the market may already have been oversaturated."
Regardless, Fox said he thought the numbers provided ample evidence that the ban was workable for the area hospitality industry.
"They said the ordinance would kill them," Fox said. "I think this clearly shows this is not killing them. The bottom line is the community did not lose money from this. Communitywide, this has been a relatively small price to pay to create healthier workplaces."
Restaurant and bar operators said ban supporters didn't have a good grasp of what the industry was going through.
Rick Renfro, owner of Johnny's Tavern, 401 N. Second St., told city commissioners last week his sales were down by 20 percent to 25 percent since the ban.
"I know you can make numbers say whatever you want, but I'm in the trenches, and I know what I'm seeing," he said.
Other business hurting
Renfro said his lunch and late-night crowds had remained fairly steady, but his North Lawrence landmark had seen a sharp decline in the number of people at the bar from about 2 p.m. to 8 p.m. Renfro said those "regular" customers were important because they often produced higher profit margins than the casual diner.
"In a lot of ways, the drinkers are the people who subsidize the cheeseburger eaters," he said.
It appears other businesses also are being hurt.
Patrick Conroy is owner of Lawrence-based Crown Amusement. The business supplies electronic trivia machines and jukeboxes to about 40 Lawrence bars and restaurants.
Conroy said he hadn't been able to pay his business bills since July and was in negotiations to sell the business' equipment to an out-of-town operator.
"Smokers are going outside to the porches and the nonsmokers are going out there to follow their buddies," Conroy said. "Nobody's inside to play my machines."
Conroy has had the business for 16 years. Before the smoking ban it had three full-time employees, but Conroy has cut one position.
Other skeptics
"I don't think there's anything that can help me at this point," he said. "I've lost the money I need to pay my creditors. It just makes me mad when people say they don't believe businesses are being hurt. I think those people probably haven't even been in any of these bars."
Count Judy Keller among the skeptics. Keller, of Lawrence, is executive director of the American Lung Association of Kansas. She said she thought the role the smoking ban had played in the failure of business had been overblown.
"I would be surprised that a business has to close after only three months with the ban," Keller said. "I would question if there aren't other factors that contributed to that. We've always known that the bar and restaurant industry is an extremely volatile industry. There are lots of openings and closings all the time."
Keller, like Fox, said the tax numbers showed businesses were doing fine. But even if they weren't, Keller said a smoking ban was still justified.
"I think we have to remember why we implemented the smoking ban," Keller said. "This is not about economic impact. This is about the health and safety of workers. We know secondhand smoke poses a significant health threat to people.
"If the issue were asbestos or food safety, we wouldn't be spending all this time talking about the economic issues."
Copyright 2018 The Lawrence Journal-World. All rights reserved. This material may not be published, broadcast, rewritten or redistributed. We strive to uphold our values for every story published.