Green Bay, Wis. — Shootouts usually come down to who has the ball at the end. This one came down to who had it at the bottom.
Minnesota's Derek Ross and Green Bay's Ben Steele, who had been cut by the Vikings in training camp, each claimed ownership of Robert Ferguson's fumble at midfield in the closing minutes.
The officials eventually ruled Green Bay had possession, and the Packers drove for Ryan Longwell's 33-yard field goal as time expired for a 34-31 win Sunday, their fourth straight.
The Vikings, who had rallied to tie with two touchdowns in a 93-second span, lost their third straight game and fell into a tie with the Packers atop the NFC Central at 5-4.
"There wasn't any doubt in my mind I had the ball," said Steele, whose legs were cramping and arms aching as he scuffled with his fellow backup Ross for the prized possession. "I wasn't going to give it up until the ref said, 'Eighty-two, you've got it.' There was a lot of scratching and clawing. It seemed like an eternity, but there was no way I was going to let go of that sucker."
Ross said he was robbed by referee Ron Winter.
"Clearly, I had the ball. Yeah, we had the ball," Ross said. "I don't think the referee did a good job of getting everybody off the pile to see clearly I had the ball."
The Vikings, who were celebrating their big break all over the field, were stunned by the referee's ruling.
"We thought we had the ball," Minnesota coach Mike Tice said. "We thought we had the ball from the get-go."
Ferguson broke into the open at midfield and thought he had a clear shot at the end zone when Antoine Winfield swooped in and forced the fumble.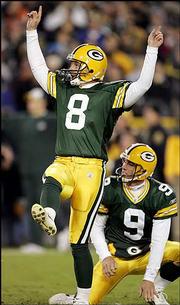 Colts 49, Texans 14
Indianapolis -- Peyton Manning threw five touchdowns for the third time this season and completed 18 of 27 passes for 320 yards.
Indianapolis (6-3) won its second straight and retained its share of the AFC South lead with Jacksonville.
Manning, the only player in NFL history to throw five TDs four times in a 12-month span, engineered three touchdown drives that used a total of 2:06. After three quarters, Manning had just one more incompletion (six) than he did touchdown passes, and he surpassed his last year's TD total of 29. The 2003 co-MVP now has 31 touchdown passes this year; Dan Marino's NFL record is 48.
Houston (4-5) is now 0-5 against the Colts after matching the worst loss in franchise history.
Rams 23, Seahawks 12
St. Louis -- Marc Bulger got off to a hot start, and a beleaguered defense held Seattle to three field goals in five trips inside the 20, earning the Rams a first-place tie with the Seahawks in the NFC West.
The Rams (5-4) had drawn the ire of coach Mike Martz, who twice put the season on their backs after consecutive losses to the beat-up Patriots and previously winless Dolphins. They responded to Mad Mike by sweeping the season series with Seattle, this time benefiting from an early cushion rather than a fast finish.
The Seahawks (5-4) were limited to four field goals by Josh Brown.
Steelers 24, Browns 10
Cleveland -- Ben Roethlisberger became the first rookie quarterback to begin 7-0 since the 1970 merger, and Jerome Bettis had two short touchdown runs. The Steelers (8-1) took smashmouth football to a new extreme. Pittsburgh linebacker Joey Porter bloodied Browns running back William Green in a fight during pregame drills. Both were ejected before the game began. Bettis, starting in place of the injured Duce Staley for the second straight week, gained 103 yards on 29 carries. He had TD runs of one and five yards in the first half.
Ravens 20, Jets 17, OT
East Rutherford, N.J. -- Matt Stover kicked a 42-yard field goal with 7:39 remaining in overtime. Last season, Stover kicked two game-winning field goals in overtime for Baltimore (6-3). The Jets (6-3), losers of three of their last four games, led 14-0, but Ed Reed's end-zone interception of Lamont Jordan's halfback pass and return to the New York 36 turned things around.
Patriots 29 , Bills 6
Foxboro, Mass. -- Tom Brady threw two touchdown passes, Adam Vinatieri kicked five field goals, Corey Dillon rushed for 151 yards on 26 carries, and the Patriots picked off four passes. The Patriots (8-1) put together their second straight impressive performance after their NFL record 21-game winning streak, including playoffs, ended on Oct. 31 at Pittsburgh. They outgained the Bills 428 yards to 125 and moved two games ahead of the New York Jets in the AFC East.
Jaguars 23, Lions 17, OT
Jacksonville, Fla. -- David Garrard threw two touchdown passes, including a 36-yarder to Jimmy Smith in overtime. Garrard, making his first start in nearly two years, finished 19-of-36 for 198 yards and added 42 yards rushing. The Lions (4-5) sent it to overtime because Eddie Drummond returned two punts for touchdowns in the fourth quarter, a 55-yarder and then an 83-yarder with 46 seconds remaining.
Bears 19, Titans 17, OT
Nashville, Tenn. -- Alex Brown sacked backup Billy Volek in the end zone and knocked the ball loose for a safety and an overtime win.
It only was the second time an NFL game has ended in overtime on a safety. The first was Nov. 5, 1989, when Minnesota beat the Los Angeles Rams, 23-21, when Mike Merriweather blocked Dale Hatcher's punt and the ball rolled out of the end zone.
The victory gave the Bears (4-5) their first three-game winning streak since the end of the 2001 season -- Chicago's last playoff appearance.
Tennessee (3-6) allowed Steve McNair another week to rest his bruised and aching chest, giving Volek the fourth start of his career.
Cardinals 17, Giants 14
Tempe, Ariz. -- Emmitt Smith rushed for a pair of touchdowns, and Arizona sacked Kurt Warner six times, including four by Bertrand Berry. Smith rushed for 67 yards on 19 carries, 30 yards on Arizona's go-ahead touchdown drive. He had scoring runs of two and three yards en route to passing 18,000 yards rushing in his career. Arizona (4-5) won its second straight, improved to 3-1 at home and is just a game back in the weak NFC West.
Bengals 17, Redskins 10
Landover, Md. -- Second-year quarterback Carson Palmer, displaying the smooth efficiency lacked by Redskins veteran Mark Brunell, completed 24 of 39 passes for 217 yards against the NFL's top-ranked defense. Rudi Johnson added 102 yards on 31 carries for the Bengals (4-5), who have won three of four.
Panthers 37, 49ers 27
San Francisco -- Muhsin Muhammad caught three touchdown passes from Jake Delhomme in the second half, and punter Todd Sauerbrun made the go-ahead field goal with 4:25 left. Delhomme was 19-of-34 for 303 yards -- 123 on six passes to Muhammad -- as the Panthers (2-7) overwhelmed the Niners' terrible defense with 34 points after halftime.
Falcons 24, Buccaneers 14
Atlanta -- Alge Crumpler hauled in a 49-yard scoring pass from Michael Vick to clinch the victory. Crumpler had four catches for a career-best 118 yards, and the Falcons rushed for 205 yards. The Atlanta defense had a season-high seven sacks to make life miserable for Brian Griese. The Falcons (7-2) scored on their first three possessions for a 17-0 lead before the Bucs (3-6) battled back.
Copyright 2018 The Associated Press. All rights reserved. This material may not be published, broadcast, rewritten or redistributed. We strive to uphold our values for every story published.