Don Conrad just wants to help other people.
Conrad, a retired minister, and his wife, Jan, made their first trip to Peru and Bolivia with the Lutheran World Relief organization in 1999. After seeing efforts made by the organization to improve conditions in South America, they returned to the United States prepared to spread the word.
The pair then traveled to Africa in 2001, visiting Tanzania and Kenya.
"I guess if someone needs help and I'm able to help, I'm conceited enough to think that I can help," he said.
Conrad has helped give more than 25 presentations to churches, informing people of how their donations can help people throughout the world. But his efforts don't stop there.
For 27 years, Conrad ministered and mentored Kansas University students with the Lutheran Campus Ministries until his retirement in 1992. He continues to work with churches in Kansas, serving between two and 18 months as an interim pastor.

Q: How did you get started with the Lutheran World Relief?
A: I think I would go all the way back to my childhood. When we were part of the church we had one Saturday a month where we had to learn about the missionaries in Africa, China and India. Of course that's not the story so much as more recently. After retirement, people ask you the question, 'Well, aren't you going to travel?' We've had the opportunity to do that.
Q: What did you see on your two trips to South America and Africa?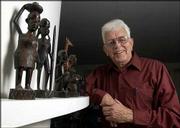 A: We saw some of the very projects that were being promoted by Lutheran World Relief. The first level is the area of disaster relief. We weren't going to be seeing that -- you can't schedule that --so we saw the second, which was mainly developmental work. We saw orphanages for AIDS children. We saw a fish farm in Tanzania and a coffee growers cooperative. We saw people trying to develop a cheese factory in the high Andes of Bolivia.
Q: Did you have any exciting adventures or experiences?
A: Well, there's no great danger in going on these things. You're safe. And we did get to see wild animals. There aren't real hardships -- you don't sleep in first class hotels, but you get to see the people in their own context and learn what they're doing. We never do these projects alone, always with a local, nongovernmental organization.
Q: What were some inspirational things you saw?
A: In Nairobi we had a Sunday morning service with the Sudanese Women's Association of Nairobi. These were not Kenyan people; they were from Sudan. They had fled, and many had been gone for over 10 years. The women didn't necessarily know where their husbands were. And we spent that day hearing their stories. My wife has never used as much Kleenex as she did that day. Our hearts were taken with those people. ... Also the kind of hope that you see these people have when you give them a little assistance. The lady in Peru who got a $200 loan to be able to start sewing, and now she wanted a larger loan so she could have five women sew together. Hope. $200 ... Who wouldn't be able to write that check?
Q: Is there anywhere else you'd like to go?
A: I haven't decided. I want to get to Egypt, and I'd like to get to Mount Sinai.
Birthday: July 20, 1929.Family: Wife, Jan; four children, David Conrad, Julie Abrahamson, Anne Hageman and John Conrad; and 12 grandchildren.Education: Received an undergraduate degree in Greek from Gustavus Adolphus College in Saint Peter, Minn., attended seminary at Augustana College and Theological Seminary in Rock Island, Ill.Favorite places in Lawrence: Lied Center, Allen Fieldhouse and home.Favorite food: Swedish food.
Q: Who or what is the most important thing in your life?
A: You have to put God. You have to say home and family. And other people.
Q: Reports after the election stated that people largely voted for Bush because of his moral and religious values. Was this surprising to you?
A: No, he's talked that way the whole time. But I don't believe that he has really grasped the Christian faith the way it should be understood. The Christian faith talks about what you do for the poor, the helpless, the needy, the imprisoned -- not how we can benefit ourselves by getting a tax break. I think he does not have a full Christian understanding.
Q: What other interests do you have outside the church and Lutheran World Relief?
A: Crossword puzzles. We have season tickets for basketball, football and the Lied Center. And I'm also interested in reading the columns in the newspaper, the thoughts of other people. I try to read both sides. I need to hear both sides because I think I have my mind pretty well made up.
Q: You mentioned that you have season tickets for basketball. Do you think the team will go all the way this year?
A: There's every reason to think that they're a very strong team. But there's only one team in the end. In '88 we didn't think they'd make it and they did. Other years we thought they'd make it and they didn't. I'm more proud of Roy Williams and Bill Self for the kind of character that they represent as coaches and the way they bring their men along.
Q: What else should people know about Don Conrad?
A: It shouldn't be about me. It's what we can do for others.
Copyright 2018 The Lawrence Journal-World. All rights reserved. This material may not be published, broadcast, rewritten or redistributed. We strive to uphold our values for every story published.