Sometimes it just isn't meant to be.
"We weren't supposed to win," Kansas University goalkeeper Meghan Miller said. "If we were supposed to win, we would have made a shot."
Kansas made only one of its 27 shots while Nebraska made two of its eight, and the Cornhuskers advanced to the NCAA Round of 16 with a 2-1 overtime soccer victory Sunday afternoon at Jayhawk Soccer Complex.
"This is the most talented team we've ever had," KU Mark Francis said of his eighth-seeded squad, "but sometimes it takes more than that. We did everything but score."
When Nebraska shot, the goal mouth was like the Grand Canyon; when Kansas shot the opening as tiny as a mouse hole.
In the second half, the Jayhawks outshot the Cornhuskers by an astonishing 17-1, yet made only one of those attempts. Jessica Smith nailed a perfect feed from Rachel Gilfillan into the left corner of the net at the 67-minute mark.
"We had lots of chances," Smith said, "and we didn't put it in the back of the net. We kept working and creating, and the ball just wouldn't go in."
Smith's goal forged a 1-all deadlock. Kansas had trailed for 40 minutes after NU's Brooke Bradenberg had slipped a 20-yard free kick just past the diving Miller at the 27-minute mark.
At the end of regulation, the score was still 1-all. Then in the sixth minute of overtime, Nebraska's Nikki Baker unloaded a left-footer from about 30 yards out that grazed the bottom of the upper post just above the leaping Miller and fell into the goal.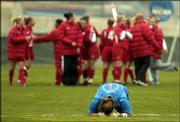 Just like that, it was over.
"The Nebraska girl hit an unbelievable shot," Smith said.
How unbelievable?
"If you gave her $100," Miller said, "she couldn't do it again. All I can say is it sucks."
Nebraska coach John Walker understood how the Jayhawks felt.
"I feel bad for Kansas," he said. "They're an excellent team. They start seven seniors, and they're a team capable of advancing. In the second half, they dominated."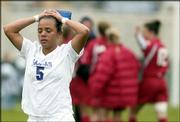 Officially, of the Jayhawks' 27 shots, 10 were on goal, and nine were stopped by NU goalkeeper Katie Wright. But many of the 17 other shots barely missed to either side or over the top.
Caroline Smith and Holly Gault, both first-team All-Big 12 Conference selections, were credited with eight and five shots, but none went into the net, a handful only slightly off target.
Of Nebraska's eight shots, three were listed as on goal. Two went in, and Miller saved the other.
"We played the game we wanted to play," KU defender Nikki Alvarez said, "and it was just unfortunate."
Unfortunate mostly for the Jayhawks who played in their last collegiate game.
"I said to the team that they needed to thank the seniors, if they hadn't already," Francis said. "They're a big reason why we're where we are. Four years ago, Kansas soccer wasn't where it is now."
Kansas finished with an 18-5 record. Nebraska will take a 14-8 record into the next round. Nebraska also boosted its all-time record against Kansas to 10-1-1. The Huskers never have lost to KU in Lawrence.
Copyright 2018 The Lawrence Journal-World. All rights reserved. This material may not be published, broadcast, rewritten or redistributed. We strive to uphold our values for every story published.