Wichita — Derby farmer Greg Rau could not help but check out the bright yellow truck with four-wheel drive at a recent farm trade show in Wichita. His teenage grandson grinned widely as he sat inside.
Rau already plans to make some farm equipment purchases this year -- maybe even a little more than usual, he said. His crops were good. But as for that fancy new pickup, Rau was not yet ready to buy: "You don't make purchases because you have money in your pocket."
Rau, like many of the nation's farmers, has a lot more money in his pocket than normal.
A record amount, in fact, according to the U.S. Department of Agriculture's Economic Research Service.
The service's latest forecast for 2004, released Tuesday, predicts net farm income will reach $73.7 billion, beating the record set in 2003 by nearly 25 percent. It's a creation of two back-to-back years of exceptionally large harvests for major crops and unusually high prices for livestock and milk.
The agency predicts farmers will pocket an average income of $70,675 per household this year, up 3.2 percent from a year ago. These good times on the farm are especially sweet after several hard years of drought.
Trickle-down effect
That agriculture money is already starting to trickle down from farmers such as Rau to business owners, such as Sid Caldwell, president of Caldwell Equipment Co. in Wichita, whose customers are farmers.
In 1999, Caldwell started laying off employees as his farm trade fell off. He is down to 24 employees from the 38 people he once employed. But Caldwell now hopes to add a service technician as his business starts to pick up.
This spring, his used equipment sales went up 25 percent.
"The demand for used equipment can't be filled. ... There is a lot of pent-up demand," Caldwell said.
Demand for new farm equipment is just starting to pick up, said Bruce Spidle, business manager for Case International Harvester in Hesston. Farmers are just finishing up their fall harvest and figuring out how much money they have made, he said.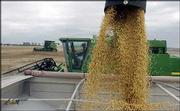 "The farmer attitude and interest is a lot better than the past few years," Spidle said.
Livestock a highlight
The Agriculture Department said the driving force behind the record farm income in the past two years has been high market prices for livestock and related products. The value of all livestock production is forecast at $121.5 billion for 2004, the highest level ever recorded in the nation.
Only income from cattle and egg sales did not increase this year, and beef producers will likely see only a modest drop in their 2004 revenues from last year's record levels, despite the discovery of the nation's first case of mad cow disease.
The nation's hog producers saw their prices strengthen this year, buffeted by a growing consumer demand for pork. The Agriculture Department's Economic Research Service forecasts hog revenues will increase nearly 37 percent this year.
Evidence of the success can again be found off the farm, where ranchers are spending money to upgrade their operations, said Josh Williams, a salesman at Filson Livestock Equipment in Protection.
"We talk to a lot more people; there seems to be more interest since the cattle market is better than it has been in a long time," Williams said.
Along with the success of livestock producers, farmers are harvesting bountiful 2004 crops, raking in an anticipated $111.9 billion in crop sales, according to the Economic Research Service's figures. Near-perfect growing conditions produced large harvests and market prices remained strong relative to their 10-year average, the agency said.
This is only the fourth year since 1990 that both crop and livestock production are anticipated to rise in the same year.
Direct government subsidies are expected to reach $15.7 billion in 2004, slightly below last year.
Copyright 2018 The Associated Press. All rights reserved. This material may not be published, broadcast, rewritten or redistributed. We strive to uphold our values for every story published.