Here's why Kansas University basketball fans love Christian Moody: Allen Fieldhouse still makes the KU forward tingle.
Prior to Sunday's 79-70 Jayhawk victory over Washburn, Moody's name was announced by Hank Booth as one of KU's five starters: "From Asheville, N.C., number 34."
"That was great," Moody said.
The crowd screamed "Mooo" every time Moody did anything good, just like they do to Moulaye Niang, just like they screamed "Dreeewwww" for Drew Gooden and "Luuuuuke" for Luke Axtell and every other "oooo" in the history of KU basketball.
Moody thought that was awesome, too.
After the game and Washburn gave the Jayhawks all they could handle, Moody kicked himself for missing a box out -- which caused coach Bill Self to bench Moody -- criticized himself for a lackluster second half at the free-throw line and kept things in perspective when asked to gloat about his 10-point, five-rebound night.
"I just got to thank coach for the opportunity to start," Moody said with a shrug.
Self had plenty of thanks to give, too, wondering aloud if KU would have beaten the Division Two Ichabods without Moody's grit in the second half.
Moody is a new man, it seems.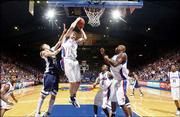 Being named a starter Sunday helped him. So did a first-half dunk, two blocked shots and two straight buckets late -- both while being fouled -- that gave KU a 66-54 lead and enough breathing room to survive the exhibition season unbeaten.
"I know that coach continues to help me out in practice with my confidence," Moody said. "That helps me so much, knowing that he wants me out on the court."
That kind of faith has given Moody more freedom when he has the ball. Instead of looking for better scorers -- like Wayne Simien and Keith Langford -- Moody is encouraged to contribute more offensively. His 10-point effort was proof the walk-on is ready for the opportunity.
"I wouldn't say it's a green light all the time," Moody said. "It does feel kind of weird, I guess. Coming in as a freshman, I didn't know if I'd get to play at all."
Copyright 2018 The Lawrence Journal-World. All rights reserved. This material may not be published, broadcast, rewritten or redistributed. We strive to uphold our values for every story published.