The Eldridge Hotel is headed for major renovations in the next several months as its new owners strive to modernize the downtown landmark while restoring and highlighting its historical elegance.
"There are a million ideas; all we've got to do is start working through a plan and figure out what one we're going to do," said Bobby Douglass, a Chicago businessman and former Kansas University and professional football player.
It has been less than two weeks since Douglass, along with KU alumni and Brownsville, Texas, attorney Mitchell Chaney and his wife, Susan, took over ownership of the hotel at 701 Mass. Their group made the top bid of $2.92 million for the hotel in U.S. Bankruptcy Court.
So far, there has been time only for minor changes, such as tweaking the menu and lowering some prices in the hotel's Shalor's Restaurant, Susan Chaney said.
"What we're trying to do is make it feel like a historic hotel," she said. "We're going to utilize elements that are great and need to stay, and we need to modernize around that."
Apart from a new roof, much of the work to be done will be mechanical, including rewiring and a major overhaul or replacement of the elevator, the Chaneys and Douglass said. In most or all of the hotel's 48 rooms (all of which are suites), bathroom areas will be revamped, carpet will be replaced, and walls will be repainted.
The hotel will close while some of the renovations are made.
"We don't know when or how long to close it down, but at some point it is going to have to be closed," Douglass said.
Offering suggestions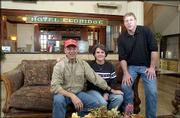 Douglass and the Chaneys have been consulting with Lawrence architect Dan Sabatini, of Sabatini and Associates, and Gene Fritzel Construction Co.
Other plans, which could change the look of the hotel's Jayhawker Lounge, Shalor's and the lobby on the main floor and the Big Six room in the basement, still are being reviewed.
Patrons and acquaintances have made numerous suggestions of their own, Susan Chaney said. Some have voiced concern about what will happen to the lobby's large goldfish in the fountain-connected fish pond.
"Every person we've talked to has thought this thing through and has figured it out, and actually, some of them (suggestions) have been quite good," she said with a chuckle.
One idea being considered for the Jayhawker Lounge would be integrating the main bar area with the adjoining "cowboy room" by relocating the bar to the back and knocking out the separating wall, Mitchell Chaney said. The lounge's "Victorian era" furniture and the western decor next door probably will go, although it isn't clear what will happen to the existing saddle chairs, he said.
"We can open up this area and you get a view of all of Seventh Street and of Massachusetts," Mitchell Chaney said. "However you do it it's got to be integrated, and it's probably not going to be cowboy or Victorian."
The Big Six room, whose name is reflected in emblems of the original athletic conference members emblazoned on the floor and painted on the walls, also will get a makeover. Specific plans haven't been made, the new owners said. Among suggested ideas, though, are a sports bar or wine bar with a wine cellar look.
Also under consideration are new, flat awnings over the two main entrances, reminiscent of awnings used at the hotel in the 1930s, Mitchell Chaney said.
'Major undertaking'
Douglass and the Chaneys declined to be specific about renovation costs, noting the total tab would depend on the final plans. But they said they expected the cost to be in excess of $1 million.
"It's a major undertaking," Douglass said. "We're going to start pretty quick. There is a lot of charm in this hotel, and it will stay."
Making plans for the future of the hotel has special meaning for the Chaneys, whose past is tied to the Eldridge. They met while working in the hotel and attending Kansas University in the late 1970s. Mitchell was a bartender, and Susan was a waitress.
They said the Eldridge was serving as an apartment building at the time, although there was a bar and luncheon area in what is now the lobby. The Big Six room at the time was a disco called Sheriff Sam Jones.
"We thought this was a fun place to work," Susan Chaney said. "We never could have thought that we would one day own the place."
The Chaneys now have a son and a daughter attending KU.
Historic hotel
Once the symbolic center of the Free State movement that sparked the Civil War, the hotel is listed on the National Register of Historic Places.
In 1856, the original hotel on the site was destroyed by a group of pro-slavery forces. It was rebuilt by Col. Shalor Eldridge and stood until 1863, when it was attacked and destroyed again, this time by William Quantrill and his raiders.
Eldridge promptly rebuilt the hotel, renaming it The Hotel Eldridge.
By 1925, the hotel had deteriorated. A group of Lawrence business leaders was organized to tear down and rebuild the Eldridge.
But with luxury hotels giving way to motor inns, the Eldridge closed its doors as a hotel July 1, 1970, and was converted to apartments.
In 1985, former owner Rob Phillips organized a group to rekindle the historic structure as a hotel. But the Eldridge has struggled and filed for bankruptcy protection late last year after a lender began foreclosure proceedings.
Team effort
Douglass and the Chaneys made separate inquiries a year or more ago with Phillips about buying the hotel. They later teamed up for the bankruptcy bidding process. The Chaneys had never been involved in operating or owning a hotel.
Douglass, who played with the Chicago Bears and four other NFL teamsafter his final KU season in 1968, has owned restaurants in the Chicago area. He said he had bought and sold a couple of hotels but never operated one.
Susan Chaney said she expected to spend much of her time in Lawrence while changes are made to the hotel. She already is staying in one of its rooms. Her husband will travel back and forth between Lawrence and Texas. Douglass will commute from Chicago.
They also are looking for a general manager for the hotel.
Copyright 2018 The Lawrence Journal-World. All rights reserved. This material may not be published, broadcast, rewritten or redistributed. We strive to uphold our values for every story published.