EAST RUTHERFORD, N.J. — Ask Tom Coughlin a question too many times and a pained expression previews the tone of his answer.
"Let me say this again: Kurt Warner is my starting quarterback; Eli Manning is the backup quarterback," Coughlin said.
Since the Giants' loss to the Bears on Sunday, there's only one issue that has captured the imagination more than how the team will replace Michael Strahan. And that's whether Coughlin is thinking about replacing Warner with his prize rookie.
"I've thought about the scenario (changing quarterbacks), but it's not something I think about every day," Coughlin said. "Certainly, the position has to make plays, but as I said earlier this week, when all of the questions were heading in that direction, there is more to this than the quarterback. The whole team has to be more concerned with protection issues."
When the Giants play the Cardinals on Sunday in Arizona, the chain of command will be the same. But what happens after kickoff may depend on Warner's ability to hold the football.
Since he became a starter in St. Louis in 1999, Warner often has had difficulty maintaining possession when he moves around. His fundamentals appear poor. He seldom tucks the ball away, holding it in his right hand.
"We talked about it again (this week)," Coughlin said. "We talked about it during the preseason, about the fact that the quarterback position is the turnover position in the league by virtue of interceptions, fumbles, whatever. We have to take better care of the ball. It should be first and foremost in his mind, I'd hope."
The message hasn't totally seeped in.
"It's hard because you start battling yourself to make a play to turn things in another direction," Warner said. "Sometimes that just makes things snowball because you're trying too hard to be perfect. They key is to stay composed and calm. It will take care of itself."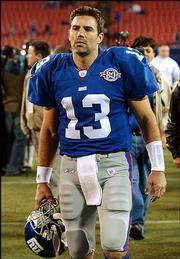 Warner, who fumbled six times in two games for the Rams in 2003, already has fumbled 12 times, losing four. His two fumbles against the Bears were compounded by two interceptions.
"I've made some mistakes which I take responsibility for," Warner said. "(Improvement) just doesn't come overnight."
Coughlin has not wavered with Warner, save for a momentary thought to use Manning against the Bears. It's an expression of respect for the two-time MVP. Until Sunday, Warner was a model of consistency with only two interceptions, a big reason the Giants were 5-2 with road wins in Green Bay, Dallas and Minnesota.
Coughlin would like Warner to trust his instincts more and consider throwing the ball away when receivers aren't open, something Warner detests.
"It's about the speed of the game," Coughlin said. "It's about the inner clock (all players must have). You have to believe in it. You have to know when time is running out and you must do something with the ball. But it's just not Kurt, although we go back and forth in this (media) room about him. One individual does not lose a football game."
Still, the drumbeat has grown loud for Manning this week. He's made two cameo appearances this season, completing three of nine for 66 yards against the Eagles in Week 1.
"I don't think it changes anything that I've been going through for the first eight weeks," Manning said.
What has partly changed is Warner's temperament. One of the league's most gracious interviews, Warner has appeared upset about the recent change in attitude about him.
"I don't know too many other places in this league where the starter wouldn't be considered the starter until a succession of things happen," Warner said. "But here (in New York) you knew that everyone was waiting for something to transpire, waiting for something to happen so they could talk about the controversy.
"But so what? I have a job to do and I'm going to do it. I'm going to battle and give everything that I have every time I step onto the field."
Copyright 2018 The Lawrence Journal-World. All rights reserved. This material may not be published, broadcast, rewritten or redistributed. We strive to uphold our values for every story published.