Meghan Miller was mad enough to chew her gloves off.
Kansas University's All-Big 12 Conference goalkeeper had surrendered a score to Creighton just eight minutes into Friday's NCAA Tournament first-round game at Jayhawk Soccer Complex.
"Obviously, I was (angry)," Miller said after the No. 8-seeded Jayhawks posted a 3-1 victory. "I really hate getting scored on."
Creighton's Emily Munn had drilled a shot into the upper left corner of the net that eluded the diving Miller and given the Bluejays a surprising 1-0 lead.
"I was mad, but I wasn't worried," Miller said. "I knew there was plenty of time left."
Sure enough, 10 minutes later, KU defender Afton Sauer's header off a Caroline Smith pass knotted the score at 1. Then, with about 91/2 minutes remaining before halftime, forward Jessica Smith scored, and the Jayhawks wouldn't trail again.
Forward Monica Brothers added the clincher nine minutes into the second half by slamming a rebound shot into the net over sprawled Creighton goalie Valerie Zimmerer.
"I'm a little disappointed in how we played," KU coach Mark Francis said. "We came out a little flat. I'm not sure why."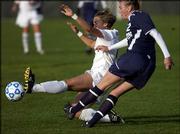 It might have had something to do with the fact Kansas had blitzed Creighton, 6-1, in a preseason exhibition game. Or it may have been the hoopla of KU hosting its first NCAA Tournament soccer game.
Whatever it was, the funk eventually disappeared.
"Our bench was a big key," Francis said. "A lot of kids came in off the bench and contributed."
Creighton coach Bruce Erickson had the same opinion.
"Kansas is the best team we've played," said Erickson, whose team finished with a 9-8-4 record. "There's no dropoff in their depth."
Depth enabled the Jayhawks to do something they hadn't done all season -- post a come-from-behind victory. They had led all the way in their previous 17 victories. Three of KU's four losses had been by 1-0 scores, so this was the first time the Jayhawks had rallied from a 1-0 deficit.
"I felt we'd come back," Francis said. "There was a lot of time left. Their kid made a great shot, but their goal was kind of a byproduct of us coming out so flat. If we come out like that Sunday, we'll be in for a long day."
Kansas will meet Nebraska at 1 p.m. Sunday at Jayhawk Soccer Complex for the right to advance to the NCAA Sweet 16. Nebraska blanked Oral Roberts, 3-0, in Friday's other game.
The Cornhuskers did it without Brittany Timko, the Big 12 Player of the Year. Timko is a native of British Columbia and she and two teammates bolted the Huskers in order to play in Canada Cup matches.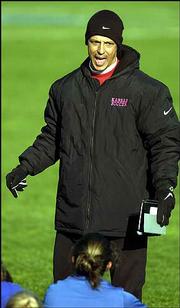 "They're still Nebraska," Francis said. "Timko is a great player, and that means one less player for us to worry about. It doesn't hurt our chances, but they're still a tough opponent."
Nebraska handed the Jayhawks one of those 1-0 defeats in late September at KU. The lone score that day was by Timko, who led the league in goals and total points this season.
Nikki Baker, a junior from Bixby, Okla., a suburb of Tulsa, site of ORU, scored all three Nebraska goals Friday.
"I was extra motivated today," Baker said.
Meanwhile, Francis expects the Jayhawks to be more motivated Sunday than they were against the Bluejays.
"The good thing is we got that game out of our system," Francis said, "and we can go from here."
Copyright 2018 The Lawrence Journal-World. All rights reserved. This material may not be published, broadcast, rewritten or redistributed. We strive to uphold our values for every story published.