A former mayor and former leader of the Kansas Chamber is lining up to lead Lawrence's largest business organization.
Shirley Martin-Smith, owner of Martin-Smith Personnel Services Inc. and Adecco in Lawrence, Topeka and Wichita, will serve next year as chairwoman of the Lawrence Chamber of Commerce's board of directors, the 1,700-member chamber announced Friday.
"We are just really committed to open communication and partnering to make the community better than it already is," said Martin-Smith, who finished her one-year term with the state chamber in June and served as Lawrence mayor in 1990. "We want to be a player in leadership in this community. And we want to work with our members to enhance their potential for success in this community."
Joining Martin-Smith as officers Jan. 1 will be Pat Flavin, of Lawrence Realty Associates, chairman-elect; Gene Meyer, of Lawrence Memorial Hospital, past chairman; and Joan Golden, U.S. Bank, treasurer.
Serving as vice chairmen are Mike Maddox, of Intrust Bank, economic development; Sue Hack, Lawrence city commissioner, tourism; David Johnson, of Bert Nash Community Mental Health Center, government/community affairs; Sharon Spratt, Cottonwood Inc., operations; Peggy Johnson, American Express Financial Advisors, small business; and Ted Haggart, of Douglas County Bank, membership.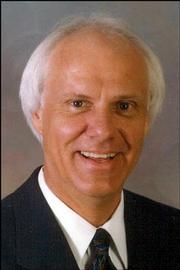 Officers serve one-year terms.
New directors for 2005 are Kent Beisner, general manager of Jayhawk Beverage Inc.; Mary Beth Brown, manager of Hallmark Cards Inc. in Lawrence; David Johnson; and Peggy Johnson.
Also new to the board: Bonnie Lowe, president of First Bank in Lawrence; Peggy Loyd, vice president for corporate compliance and internal auditing at Westar Energy; Jim Marchiony, associate athletic director for external affairs at Kansas University; and Kyle Taylor, owner/operator of Golf USA in Lawrence.
Copyright 2018 The Lawrence Journal-World. All rights reserved. This material may not be published, broadcast, rewritten or redistributed. We strive to uphold our values for every story published.