Retired Lt. Col. Barry Bridger understands the price of freedom all too clearly.
Bridger, who served with the U.S. Air Force, was a prisoner of war for more than six years in Vietnam.
During that time, he and other soldiers withstood physical and psychological torture. They were told their country had forgotten them and they couldn't even pray without being punished.
"Veterans know better than anyone else that the cost of freedom is high, but well worth the cost," said Bridger, who lives in Platte City, Mo. "They also know liberty is a goal and the right of not just Americans and our allies, but all men."
Bridger spoke to a crowd of more than 100 people -- mainly local members of the Reserve Officer Training Corps -- Thursday night at Woodruff Auditorium in the Kansas Union. His program, part of Lawrence's Veterans Day observance, was followed by a 24-hour vigil lasting into today at the Vietnam War Memorial and the World War II Memorial Campanile.
Formerly known as Armistice Day, Veterans Day began in recognition of the end of World War I in 1918. Over the years, Veterans Day has become a time to recognize veterans and soldiers.
It also is a time to acknowledge the freedom that veterans have fought for in the past and soldiers fight for today, said Maj. Dane Childs of the Kansas Army National Guard.
On Thursday morning, Childs and Col. James Stewart, director of facilities and engineering for the Kansas National Guard, spoke to local members of the American Legion and Veterans of Foreign Wars at the VFW, 138 Ala.
"The freedoms that we enjoy, we need to hold dear," Childs said. "When we forget our veterans who paid the price to give us those freedoms, we're going to become a spoiled society, and I think we would be doomed to live in a country that is in danger of losing those freedoms in the future."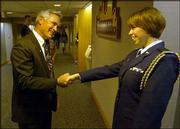 Childs spent much of his time answering questions from veterans about the current war in Iraq. He said he thought many Iraqis were waiting to see whether the United States followed through and maintained a presence to help the country install a democratic process.
"They don't want to be caught in the middle of obviously a power struggle between insurgents and coalition forces," he said. "So what they are doing is standing back."
People hear about car bombs blowing up outside recruiting stations and National Guard training camps, Childs said. But Iraqis continue to apply to be police officers and guardsmen. Childs said that indicated that Iraqis wanted democracy.
Don McDow, who served in the U.S. Navy, said many veterans were keeping up with what was going on in Iraq and comparing it to their time of service.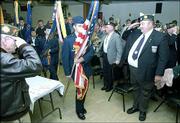 "There's a lot of things these young guys are facing over there in Iraq that I wouldn't want to face," said McDow, who said he served from 1945 to 1957. "It's kind of similar to Vietnam. They don't know who their friends are. You might be talking to some little kid and giving him an apple and all of the sudden he shoots you. We oftentimes don't know who our friends and allies are over there. A lot of the time, we don't."
While the future of the war in Iraq is uncertain, McDow said, Veterans Day remains a time for people to rededicate their lives to the service of the country.
And he said he viewed his time of service as a way to give thanks for being an American.
"I think everyone of us veterans feels that way down deep in their heart," McDow said. "To me, being in the Navy was a chance to give something back to the country."
Copyright 2018 The Lawrence Journal-World. All rights reserved. This material may not be published, broadcast, rewritten or redistributed. We strive to uphold our values for every story published.