Lawrence resident Chuck McPheeters has given up 136 pints -- or 17 gallons -- of blood since about 1960.
"I've never had to have a transfusion," he said. "But I've had friends who have needed them. And when you give blood, it doesn't stay good very long. So, there's always a need for it."
McPheeters, 72, is part of the 5 percent of the population that regularly donates blood. He rolled up his sleeve along with about 50 other people Wednesday to donate a pint at a community blood drive held by the Douglas County chapter of the American Red Cross at First Christian Church, 1000 Ky.
"It's a good service for those who are eligible," McPheeters said. "Some people are hesitant about the needle -- not me. You have to realize you're giving something that someone else desperately needs."
Bree Cox, spokeswoman for the American Red Cross Central Plains Region Blood Services, said that Wednesday morning, they had about 47 pints of O Negative, which any person can accept.
"Ideally, we would have 100 pints ready to distribute," she said.
The shelf life of blood is 42 days. After that, it can no longer be used.
Jane Blocher, executive director of the Douglas County Chapter of the American Red Cross, said after the 9-11 attacks, several people came out of the woodwork to donate blood. It's most difficult to get first-time donors, she said.
"The hope was that the people would continue to give," Blocher said.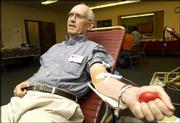 Some did come back to give a second time, but participation in giving blood has since waned, she said.
She said groups collecting blood usually had a core group of people they relied on and that group was strong in Douglas County. But there's always a need for more blood, she said.
People are eligible to donate every 56 days. Donors also must be 17 or older and at least 110 pounds. They also can't be sick.
The next blood drive will be from noon to 6 p.m. Feb. 24 at First Christian Church, Cox said. People interested in donating blood before then should contact Blocher at 843-3550.
Copyright 2018 The Lawrence Journal-World. All rights reserved. This material may not be published, broadcast, rewritten or redistributed. We strive to uphold our values for every story published.