Rome — Former Soviet leader Mikhail Gorbachev honored the singer once known as Cat Stevens with a peace prize on Wednesday, praising him for charity work and for standing by his convictions despite personal hardships.
Yusuf Islam was awarded the "Man for Peace" prize in Rome at the opening of a meeting of Nobel Peace Prize laureates. He last made headlines in September, when he turned up on Washington's no-fly list for having suspected ties to terrorists -- a claim he has strongly denied.
The "Peace Train" singer, who largely gave up music after converting to Islam in the late 1970s, mused about the strangeness of being barred from one country while being honored in another.
"Perhaps it's part of the irony that sometimes you have to go through a test in order to achieve a prize," he told reporters. "So maybe that's a symbol. Today I'm receiving a prize for peace, which is actually, I would say, a bit more descriptive of my ideas and my aims in life."
The British musician was expelled from the United States in September after authorities diverted his London-to-Washington flight to Maine to remove him, saying he was suspected of ties to terrorism.
Islam criticized what he called an "unjust and arbitrary system," and that he has denounced terrorism. He also pointed out that just a few months earlier, he had met with officials of the White House's Office of Faith-Based and Community Initiatives to talk about philanthropy.
Lawyers for the singer have asked American officials to remove his name from the "no fly" list and British Foreign Secretary Jack Straw has complained to American officials about their treatment of him.
Gorbachev's foundation and Rome Mayor Walter Veltroni's office, which presented the award, praised Islam for promoting peace and "for having condemned terrorism."
The former Soviet leader alluded to the musician's troubles.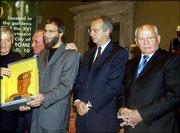 "Cat Stevens' life has not been simple," Gorbachev said. "Every person who takes a critical stance to make the world a better place ... has a difficult life."
The two men kissed each other on the cheek as Gorbachev handed over the prize.
Islam is the founder of Small Kindness, a charity to raise money for children and families suffering from poverty and war in the Balkans and Middle East. It also donated money to victims of the Sept. 11, 2001, attacks and to the fight against AIDS in South Africa.
Islam has largely shunned music in recent years, although he did record a new version of his 1971 hit "Peace Train" last year for the album "Hope," which raised money for Iraqi children.
The meeting of Nobel laureates, which ends Friday, is organized every year in Rome by the Gorbachev Foundation. Besides Gorbachev, other Nobel winners present included Lech Walesa, the founder of Poland's Solidarity democracy movement; Rigoberta Menchu Tum, who fought government oppression in Guatemala; and former South Korean President Kim Dae-jung.
Islam said he was honored to be attending -- "not as a rock 'n' roller, but as someone who is sharing a platform with these noble examples."
Other recipients of the "Man for Peace" award included Italian actor-director Roberto Benigni.
Copyright 2018 The Lawrence Journal-World. All rights reserved. This material may not be published, broadcast, rewritten or redistributed. We strive to uphold our values for every story published.