New York — A day-old brother and sister were welcomed as celebrities Wednesday as their beaming mother, believed to be the oldest woman in American to give birth to twins, showed them off.
Wearing a pink silk bathrobe, Aleta St. James choked up as she introduced her newborn son, Gian, and daughter, Francesca, at a news conference.
"This is the most incredible thing I've ever done in my life. This is a miracle that God blessed me with," she said.
St. James, who turns 57 on Friday, delivered the twins by Caesarean section Tuesday at Mount Sinai Medical Center. They were conceived through in vitro fertilization using donor eggs.
"A lot of people may think I am selfish or crazy or whatever," St. James said Wednesday. "Well, I'm a little bit crazy. I've never lived in the box. I just say if you have a dream, if you put your mind to it and don't listen to other people's negativity, you can really do incredible things."
St. James is a motivational speaker who helped her brother, radio talk show host Curtis Sliwa, found the Guardian Angels in the 1970s.
The single mom said she had the financial means to care for the twins, and had relatives and friends willing to help. She said she planned to keep working.
"I'm in very good physical condition. I do emotional healing work. I knew I could do this," said St. James. "I knew I could give extraordinary things to these children."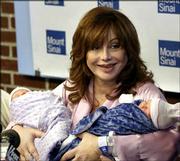 Copyright 2017 The Associated Press. All rights reserved. This material may not be published, broadcast, rewritten or redistributed. We strive to uphold our values for every story published.