Louisville, Ky. — Louisville needed less than seven minutes to shake off nemesis TCU and roll to another big victory.
Stefan LeFors threw three touchdown passes, and the 12th-ranked Cardinals scored on their first three possessions in a 55-28 rout of the Horned Frogs on Wednesday night.
LeFors, completing 75 percent of his passes coming into the game, went 13-for-21 for 275 yards as the Cardinals beat TCU for the first time in four meetings since 2001.
"It was a great start, and we finished it off," said LeFors, who became the sixth Louisville quarterback to top 5,000 passing yards.
J.R. Russell and Broderick Clark had two touchdown catches for the Cardinals (7-1, 5-0 Conference USA), who totaled 587 yards.
"If we come out and do what we do, we can't be stopped," said Russell. "We came out and took it to them."
The Cardinals, leading the nation with 542 yards per game, raced to a 17-0 lead in the opening 6:53 -- before the Horned Frogs got their initial first down.
Louisville took the opening kickoff and marched down the field in six plays, averaging 11 yards per snap. Michael Bush finished the drive with a 12-yard scoring run.
After a TCU punt, LeFors scrambled twice to get the Cardinals across midfield again. He found Russell for a 32-yard touchdown pass with 10:06 left in the first quarter.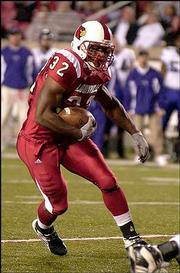 On the ensuing kickoff, Louisville's J.T. Haskins stripped the ball from Cory Rodgers, and Louisville's Harry Douglas recovered at the TCU 38.
Art Carmody finished the Cardinals' scoring blitz with a 31-yard field goal. At that point, the Horned Frogs had gained only seven yards on three plays and fumbled twice.
"We were able to get on them early and gain some momentum," Louisville coach Bobby Petrino said. "Once we got control and got in front of them, they didn't really feel like they could catch us."
LeFors started 4-for-4, then misfired on five straight passes before consecutive completions to Tinch and Russell. Clark caught LeFors' next pass and outran a defender for a 42-yard touchdown, Louisville's longest scoring reception of the season.
"We understood what they were going to do," TCU coach Gary Patterson said. "We just didn't make plays. At some point, you've just got to do your job."
The Cardinals' only early miscue came late in the first quarter, when Rodgers sneaked behind Louisville's Kerry Rhodes and caught a 72-yard touchdown pass from TCU quarterback Tye Gunn.
Petrino replaced LeFors with freshman Brian Brohm late in the first quarter, the sixth time in eight games Petrino has made the first-half switch. Despite starting 1-for-6, Brohm drove the Cardinals for another Carmody field goal and a 27-7 lead.
Russell went over 100 yards receiving for the third straight game on a 25-yard touchdown pass from LeFors with 10:45 left in the third quarter. It was the third time this season LeFors has thrown three TD passes in a game.
Bush, who was a star quarterback in high school, threw a 48-yard touchdown pass to Clark later in the quarter.
Brohm returned in the fourth quarter and threw a 25-yard touchdown pass to tight end Gary Barnidge.
TCU (4-5, 2-4) allowed at least 40 points for the fifth time this season after giving up 40 points only five times in the previous six seasons.
"We don't deserve to play on national TV right now," said Patterson.
Louisville's defense, meanwhile, held TCU to 308 yards after giving up 603 in a 56-49 win over Memphis last Thursday.
Louisville topped 50 points for the fourth time this season and went over 40 points for the ninth time in 21 games under Petrino, in his second year.
Copyright 2018 The Associated Press. All rights reserved. This material may not be published, broadcast, rewritten or redistributed. We strive to uphold our values for every story published.