Kansas University coach Bill Self's 12th college basketball recruiting class looks like it might be his finest.
"I've never recruited a class this highly rated as far as individuals -- three of the top 15 to 20 guys consensus nationally," Self said Wednesday after receiving letters of intent from No. 10-rated Julian Wright, No. 12 Mario Chalmers and No. 14 Micah Downs.
"They are not perfect players by any means, but they all have the potential to be excellent college players. This is a great day for the future of Kansas basketball."
KU's three perimeter signees -- Chalmers, 6-foot-1, from Anchorage, Alaska; Downs, 6-8, from Kirkland, Wash.; and Wright, 6-8, from Chicago Heights, Ill. -- combined with last year's crop of Alex Galindo, C.J. Giles, Darnell Jackson, Sasha Kaun and Russell Robinson, compose the immediate future of KU basketball, which will lose four seniors and perhaps sophomore J.R. Giddens to the NBA.
"This class and the last class, because of the way the balance of our classes are, was probably as important a recruiting class as we'll have while at Kansas," said Self, who also coached at Oral Roberts, Tulsa and Illinois.
"If we didn't have two good classes, it would be a pretty scary proposition, knowing what we're probably going to lose this year."
Self said he would continue to recruit in hopes of filling a final scholarship opening for the class of 2005, saying, "If we get the right guy, we'll use it. If we can't, then we're not going to panic."
KU's three-man class currently ranks fourth nationally by rivals.com behind Duke, Oklahoma State and Washington.
The highest rated player in the class is Homewood-Flossmoor High's Wright, who orally committed to KU over DePaul, Illinois and Arizona about a half hour after his in-home visit with Self and KU assistant Kurtis Townsend on Sept. 9.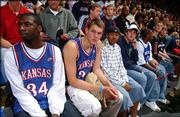 Minutes after the visit, Wright's mother, Gina, phoned KU's coach on his cell phone as he and Townsend headed to a Chicago airport, asking them to return to the home. Puzzled, Self and Townsend U-turned their vehicle.
"I said 'Kurtis, he's not going to commit is he?''' Self recalled. Kurtis said, 'No.' I said, 'We've got problems then.' Because I thought by the time we left other schools had called in and contradicted what we'd talked about.
"We went over there and needless to say it was a happy family," Self added, setting the scene.
"Julian was talking to his father on the phone. Julian said, 'Hold on,' and set the phone down and didn't hang up, which I thought was kind of strange. We were all standing up and they started hugging. He said, 'I'm coming.' I said, 'That's great, where we going?' He said, 'No, I'm coming to Kansas.'
"I said, 'Julian I know you've already told me you're going to visit. He said, 'No I'm committing to come to Kansas.'''
Wright's decision -- he told media he'd always loved KU, was sold on Self and saw no need for a campus visit -- floored Self, who when at Illinois also received commitments from three players sans visits -- Dee Brown, Deron Williams and James Augustine.
"It was probably the best home visit I've ever had," Self said. "It's not very often you go in the home not expecting much and coming away with everything."
As far as Wright's game, Self praised the player who averaged 10.4 points, 7.0 boards and 4.9 assists per game last year.
"Of course Julian is probably the best all around guy that we've signed," Self said. "He can really handle the ball, but what he does best is make others better by passing. The game is slow motion to him much like it was to Danny (Manning) when he played. He's not the inside scorer like Danny. He's kind of a poor man's Magic (Johnson) type player. He handles it, passes it and is good in transition."
Downs, who averaged 19.7 points a game last year at Bothell High, is electrifying, Self said.
"He is one of the most skilled guys in his class," Self said of the sharpshooter who verbally committed to KU over Duke and Gonzaga on May. 17. "He can shoot with range, put the ball down and is an excellent passer. He's probably about as fun to watch as any player out there because he knows how to play."
Chalmers, who averaged 23.2 points and 6.0 assists a game last year for Bartlett High, is "an explosive athlete, a guy you can throw lobs to, a guy who can play with the ball in his hands," Self said. "He has a scorer's mentality and a good feel for the game."
Self said Chalmers, who verbally committed to KU over Arizona on May 21, and Robinson would likely play in the same backcourt at KU.
"Whoever gets it (ball) brings it a lot," Self said. "Only one of them will be in the game a lot of the time, but I can see them both playing at the same time a lot."
Self is expecting all three signees to show on campus.
"Julian's name has obviously been mentioned, but not to the point where it's serious talk," Self said of the 2005 NBA Draft. "All three of those guys are looking forward to going to school. If any of them perform at such a high level, they could be talked about. If you asked the so-called experts at the next level they would say these prospects all have a chance if things fell right for them, but I can't see it happening out of high school."
¢
Can't do it alone: "The people that deserve the most credit for any good recruiting class are obviously the assistant coaches," Self said. "Joe Dooley identified Micah and Mario early, which may have given us a head start with those two. All three assistants -- Joe, Tim (Jankovich) and Kurtis -- did a great job in cultivating relationships with these three youngsters throughout the recruiting process."
¢
Bumps, bruises update: Guard Jeremy Case (groin injury) said Wednesday he hopes to begin practicing next week. He said no official decision has been reached but it's looking more and more like he'll red-shirt. Junior Stephen Vinson is still out indefinitely with a groin pull.
¢
This, that: KU will meet Washburn in its final exhibition at 7 p.m. Sunday at Allen Fieldhouse. Washburn scared Purdue in a 81-72 loss Monday in West Lafayette, Ind. Self knows all about Washburn's potential for upset victories. He was a member of the Oklahoma State team that fell to the Ichabods, 67-66, on Nov. 29, 1984 in Stillwater, Okla. Sunday's game will use an experimental free throw lane 1 1/2 feet wider on each side, a three-point line extended to 20-6 and an arc drawn two feet from the center of the hoop to assist with charge/block calls.
Copyright 2018 The Lawrence Journal-World. All rights reserved. This material may not be published, broadcast, rewritten or redistributed. We strive to uphold our values for every story published.