A triple bogey may not be the worst pain Eagle Bend Golf Course creates for Lawrence residents.
A new report from the city's finance department projects taxpayers again will be asked to subsidize the city-owned, 18-hole course at the base of Clinton Lake Dam.
The reason: The course will lose as much as $150,000 this year. That's a slight improvement from the $162,624 lost last year, but Eagle Bend officials had projected the course to break even this year after they cut expenses and increased some greens fees.
"We've had a wet summer, and that has made a big difference in our projections," said Fred DeVictor, director of the city's Parks and Recreation Department. "In June and July, we probably had 15 to 17 days, with a lot of them weekends, that were affected by rain."
But DeVictor said the decline couldn't all be blamed on the weather.
The total number of rounds may not reach 30,000 in 2004, DeVictor said. That would be down from 32,000 in 2003 and a high of 41,500 rounds in 2001.
Higher fees, less service
He said increased competition since the course was built in 1998 and a slowdown in the entire golf industry after 9-11 also were to blame. DeVictor said city officials must consider a more aggressive increase of greens fees for 2005, but declined to predict how much they might be increased.
"We're open to reviewing our entire situation and looking at any and all options," DeVictor said.
But City Commissioner David Schauner said he wasn't sure a fee increase was the answer to the course's problem. With a weekend round of golf with a cart already costing $34, Schauner said he thought many Lawrence golfers were leaving the city to play at less expensive courses in outlying communities.
"I'm a believer in user fees, but my concern is that if we raise this user fee too much, we'll have an unproductive result," Schauner said. "We'll chase people away, and we'll actually lose more money."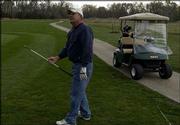 Losing proposition?
Instead, he said, city taxpayers may have to accept the possibility that the golf course will never pay its own way, though the loss could be reduced. And subsidizing the golf course, Schauner said, is a reasonable use of city money.
"I suppose there are people who think it isn't a good use of money, but I think the golf course is the type of amenity that makes the city a more attractive place," he said. "It may just be part of the cost of making the city more livable."
City officials said cuts in services at the course also would be discussed. Ed Mullins, the city's director of finance, said issues such as how often the course was mowed, how many chemicals were used, and whether ancillary services such as the concession stand and pro shop were paying their own way would be discussed.
Other courses
The financial performance of other city-owned golf courses in the area has been mixed. Topeka Public Golf Course, operated by the Topeka Parks and Recreation Department, also is losing money, said Doug Reynolds, associate director of administration for the department. He said the course had spent about $110,000 more than it had generated in revenues.
"There are just too many golf courses right now," Reynolds said. "Golf has just been overbuilt."
Overland Park's two city-owned courses remain profitable, though not as profitable as they were three years ago, said Sandy Queen, who oversees the city's golf operations.
He agreed the industry was in a tough spot now. It's because the number of new golf courses increased rapidly during the 1990s when golf peaked in popularity and governments and housing developers had money to invest in golf courses.
Queen said the biggest difference between his courses and Eagle Bend was that his were paid for when the downturn in the golf industry hit. Lawrence officials still are paying $320,000 a year in bond payments related to the construction of Eagle Bend. That debt won't be retired until 2016.
"It is very difficult to be profitable right now," Queen said. "But you have to realize that a golf course is a long-term investment. Golf is in a downturn right now, but it won't always be. And eventually your facilities will be paid for, and then it will be a good investment."
Copyright 2018 The Lawrence Journal-World. All rights reserved. This material may not be published, broadcast, rewritten or redistributed. We strive to uphold our values for every story published.