New York — With the start of holiday shopping just weeks away, toy companies and other purveyors of seasonal merchandise are living through a nightmare: merchandise that's stranded aboard cargo ships amid the gridlock at two West Coast ports.
"This is terrible. There are a lot of order cancellations" from retailers tired of waiting for their deliveries, said Isaac Larian, president and chief executive officer of MGA Entertainment Inc., maker of the popular Bratz dolls.
The backlog -- the result of an ever-growing flood of cargo from Asia into the twin ports of Los Angeles and Long Beach -- means some toys and other merchandise will be in short supply this season, even as manufacturers and retailers take steps to ease the problem.
Larian said some retailers had canceled orders with MGA Entertainment during the past month because his company missed delivery deadlines, and he predicted MGA Entertainment's fourth-quarter results would suffer.
MGA Entertainment and other companies are resorting to such strategies as flying in hot products from Asia, but that won't make up for all the merchandise still tied up at the docks. And so some retailers are just giving up.
The twin ports have become the nation's main entry point for cargo containers. About 43 percent of all 20-foot containers from the Far East arrives at these ports, according to Peter H. Powell, chairman of the National Customs Brokers and Forwarders Association of America, which oversees activities at the nation's ports. He estimates that this season the cargo volume to the West Coast ports has increased between 10 percent and 13 percent from a year ago -- when congestion was already a problem.
More dock workers are being hired, allowing the ports to become 24-hour operations, but there's still a labor shortage, and some ships wait at least a week to be unloaded. Powell said the work force increase would help, but it's a temporary solution that doesn't take into account future growth in imports.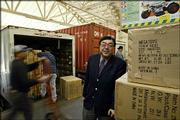 Copyright 2018 The Associated Press. All rights reserved. This material may not be published, broadcast, rewritten or redistributed. We strive to uphold our values for every story published.