This is what Darlington Raceway officials envisioned when NASCAR moved the Southern 500 from its traditional Labor Day weekend date to the upcoming weekend.
A reason for fans to buy tickets.
Four drivers are within 48 points of the lead with two races remaining in the inaugural Chase for the Nextel Cup Championship as the series heads to its oldest superspeedway.
That and the chance to finish under the lights for the first time at the 1.366-mile oval makes Sunday's 12:30 p.m. (ET) race perhaps the most significant in Darlington's 54-year history.
Track officials hope that is incentive enough to sell out the 60,000-seat facility that has lost one of its Cup dates in 2005 and had its other moved to the Saturday night before Mother's Day because of poor tickets sales in what has been considered an oversaturated market.
"We think we have a great story to tell with the final running of the Mountain Dew Southern 500 and starting a tradition of weekend night racing," track vice president Mac Josey said.
They also have a great points race, which is what Darlington and NASCAR officials wanted.
Kurt Busch finished 10th on Sunday at Phoenix to maintain the points lead for the sixth consecutive week in the 10-race chase that concludes in two weeks at Homstead-Miami.
He has a 41-point advantage over Jeff Gordon, who was third. Dale Earnhardt Jr., who won Sunday's race, is 47 points back. Jimmie Johnson, who won the spring race at Darlington, is 48 behind.

Mark Martin (-102), Tony Stewart (-142) and Ryan Newman (-150) will need a miracle to climb back into contention. But at least they have a chance, something nobody behind Matt Kenseth had a year ago going into the next to last race.
"It's not just racing Kurt anymore," Earnhardt said. "The points race is too difficult to worry about. There is too much going on. So we'll just race each lap at Darlington and get out of there."
Darlington won't be as much about beating others in the Chase as it will be beating Darlington, considered one of the tougher tracks on the circuit because of its odd egg shape, bumpy surface and tight corners that were made even tighter when SAFER (Steel and Foam Energy Reduction) barriers were added this year.
"Darlington is such a weird track," Johnson said. "When you think of Darlington, you think of the long haul and how brutal it is. I'm looking forward to a good, slick and challenging racetrack and being mad at everybody and the car and the tires and asking for tires every 20 laps."
Newman agreed.
"There will be sparks flying, I can tell you that even though the lights will be on," Newman said. "But the bottom line is that you've still got to race the racetrack.
"And no matter what the competition is, whether it's for points or not, you can only do so much at a track like Darlington. In a situation where it's so much give and take, you have to give and take to be able to get yourself to the end of the race."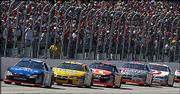 The storylines will be plentiful. Can Johnson become the first driver to sweep both Darlington races since Jeff Burton did it in 1999 and the ninth overall to accomplish the feat?
Can Gordon, who won both races in 1996 en route to a second-place finish in the points race, win for the seventh time on this storied track and the sixth time in the Southern 500? His six wins already are four more than any other active driver.
Can Terry Labonte, who will not run a full Cup schedule after this season, defend his title in the Southern 500?
Will Kasey Kahne and Tony Stewart renew their controversy from the March Darlington race in which Stewart spun out the pole-sitter with 11 laps remaining to take him out of contention?
Will the National Association for Minority Race Fans, whose mission is to "create a safer race track environment for minority groups and citizens who desire to enjoy NASCAR events without racial bigotry," stage a protest as it has at other tracks?
Will finishing under the lights -- the final 45 minutes are expected to be under the newly installed system -- change the racing dramatically?
Will Darlington officials sell out the track for only the second time -- last year's final Labor Day weekend event was the other -- since the facility was expanded to 60,000 seats in 1997 and strengthen its argument for expansion?
Darlington officials couldn't ask for more.
Copyright 2018 The Lawrence Journal-World. All rights reserved. This material may not be published, broadcast, rewritten or redistributed. We strive to uphold our values for every story published.