Blue Chip Cookies bites into Lawrence market
Steven Stewart couldn't pass up a little guilty pleasure.
Stewart, who co-owns three Juice Stop shops in Lawrence and two in Topeka, opened Blue Chip Cookies on Wednesday in the Westgate Shops shopping center at the southeast corner of Sixth Street and Wakarusa Drive.
"We did a 180 and went from healthy to a little unhealthy," said Stewart, who co-owns the franchise locations along with his father, Ron. "We've got both ends of the spectrum."
Blue Chip Cookies offers 27 varieties of cookies and 16 flavors of ice cream, plus cinnamon rolls and muffins and other fare. The shop, with six employees, is part of a Cincinnati-based chain that got its start in the early 1980s on Fisherman's Wharf in San Francisco.
Courts
Martha Stewart wants legal bills reimbursed
Imprisoned homemaking mogul Martha Stewart has asked the company she founded to reimburse her for $3.7 million in legal bills for a single criminal count that was eventually thrown out.
The company, Martha Stewart Living Omnimedia Inc., disclosed the request in a regulatory filing Tuesday.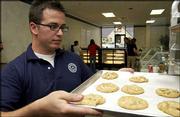 The $3.7 million figure applies to Stewart's defense on a charge that she propped up the company's stock price, and therefore her own wealth, in 2002 by declaring her innocence in a personal stock scandal.
Food
American Italian Pasta eats loss for quarter
Kansas City, Mo.-based American Italian Pasta Co. on Wednesday reported its second straight losing quarter, blaming the costs of responding to a nation losing its appetite for foods rich in carbohydrates.
The nation's largest producer of dry pasta, with brands like Mueller's and Pennsylvania Dutch, reported a net loss of $12.2 million, or 67 cents per share, compared to a profit of $12.8 million, or 69 cents per share, in the fourth quarter a year earlier.
The latest quarter's loss reflects $14.4 million in before-tax expenses for such items as restructuring, an inventory reduction strategy and the introduction and marketing of new products.
Economy
Trade gap narrows
The U.S. trade deficit shrank to $51.6 billion in September, an improvement brought about as exports posted their best month on record.
The latest snapshot of trade activity, reported by the Commerce Department on Wednesday, came after the deficit had swelled to $53.5 billion in August -- the second-highest level registered. September's trade deficit represented a 3.7 percent reduction from August.
Copyright 2018 The Lawrence Journal-World. All rights reserved. This material may not be published, broadcast, rewritten or redistributed. We strive to uphold our values for every story published.