Miami — Shaquille O'Neal and the Miami Heat are off to the best start in franchise history.
O'Neal had 20 points, nine rebounds and three blocks, and Dwyane Wade had 22 points and nine assists in a 103-93 win over the Washington Wizards on Tuesday night.
Udonis Haslem added 18 points and 10 rebounds for Miami, which moved to 4-0 for the first time in club history and won a team-record 14th straight regular-season home game dating to last season. Yet what riled the Heat was the way they allowed the Wizards to come back after trailing by 29.
"We've got to stay consistent with our defense at all times," said O'Neal, who added four assists but also was charged with nine turnovers. "We had a 29-point lead and only won the game by 10. We can't let that happen."
Gilbert Arenas scored 20 points for Washington, which lost to the Heat for the second time in four nights and failed to score 100 points for the first time this season.
Antawn Jamison finished with 14, well off the 27.3-point average he carried into the game.
"We were bad on offense," Wizards coach Eddie Jordan said. "We couldn't make a shot, couldn't make a play."
Haslem and Wade combined to score 25 of Miami's 37 points in the third quarter, when the Heat led by as many as 24. The lead grew even more before Washington outscored Miami 28-9 over the final 9:17.
"We need to learn how to close the game," Heat guard Eddie Jones said.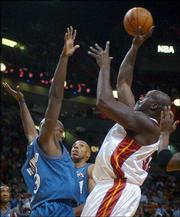 Wade shot 7-for-11 from the field and sat out all but three minutes of the fourth quarter.
Rockets 90, Grizzlies 87
Houston -- Juwan Howard scored 20 points, Yao Ming added 14 points and 11 rebounds, and Houston kept Memphis winless this season, beating the Grizzlies despite losing Tracy McGrady to a hip injury. Playing only his second home game in Houston, McGrady left midway through the third quarter.
Cavaliers 93, Hawks 79
Atlanta -- LeBron James scored 25 points, including two dunks and a three-pointer in a three-minute span of the third quarter, and Cleveland beat Atlanta. The Hawks scored only 25 points in the second half -- 11 in the final period.
Magic 94, Mavericks 84
Orlando, Fla. -- Grant Hill scored 17 points and had nine rebounds, and Steve Francis nearly posted a triple-double in Orlando's victory over Dallas.
Kings 108, Raptors 92
Sacramento, Calif. -- Chris Webber had 21 points, 11 rebounds and 11 of Sacramento's 31 assists in its first victory of the season.
Knicks 96, 76ers 88
New York -- Lenny Wilkens gained some job security despite coaching without a hand-picked assistant for the first time in his career as New York defeated Philadelphia. One day after his longtime confidant Dick Helm was forced to resign following a 34-point loss in the home opener, Wilkens gained his 1,316th career coaching victory.
Nets 64, Blazers 60
East Rutherford, N.J. -- Alonzo Mourning made two layups, and New Jersey found some late offense to beat Portland.
Lakers 106, Hornets 98
New Orleans -- Kobe Bryant scored 31 points -- including 14-of-14 from the foul line -- to lead Los Angeles to a victory that dropped New Orleans to 0-4 for the first time since the 1989-90 season, when the team was still new in Charlotte.
Sonics 108, Nuggets 88
Denver -- Ray Allen scored 30 points to help Seattle defeat Denver. Rashard Lewis scored 27 points, Luke Ridnour had 11 assists, and the Sonics, not viewed by many as a playoff team this year, improved to a surprising 3-1.
Pacers 102, T'wolves 101
Minneapolis -- Jermaine O'Neal had 22 points and eight rebounds to help Indiana hold off Minnesota.
Suns 94, Bulls 74
Chicago -- Amare Stoudemire had 26 points and a season-high 15 rebounds to lead four players in double figures, and Phoenix routed Chicago for its fourth straight victory.
Late Monday Game
Pistons 99, Clippers 96, 2OT
Los Angeles -- Chauncey Billups scored four of his 20 points on free throws in the final 45 seconds.
Copyright 2018 The Associated Press. All rights reserved. This material may not be published, broadcast, rewritten or redistributed. We strive to uphold our values for every story published.