Los Angeles — California's insurance regulator dropped his objections to a $16.4 billion deal to create the nation's largest health insurance company Tuesday, after the companies agreed to pay hundreds of millions of dollars for state health care improvements.
For months, Insurance Commissioner John Garamendi had blocked Indianapolis-based Anthem Inc.'s proposed acquisition of WellPoint Health Networks Inc., saying it would pull $400 million a year out of California in the form of dividends and that the buyout package it offered WellPoint's chief executive was excessive.
In the proposed deal, Anthem would acquire Blue Cross Life & Health, a California subsidiary of WellPoint and the only one of 75 subsidiaries involved that would fall under Garamendi's jurisdiction.
Garamendi also had demanded that the companies contribute $600 million to California's uninsured population as a condition of his approval.
Garamendi said Tuesday that he had negotiated a slate of "concessions and contributions" that would ensure that the deal would not result in higher premiums for California consumers while benefiting health care programs for low-income residents.
Despite California's blessing, Anthem and WellPoint still must secure approval from insurance regulators in other states before completing the buyout deal.
In all, some 28 million people in 13 states would be covered by a combined Anthem-WellPoint, with about a quarter of those in California.
"We are well prepared to quickly and successfully integrate our two organizations," said Larry C. Glasscock, Anthem's chairman, president and chief executive.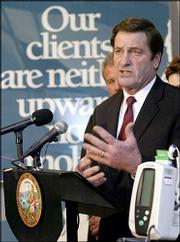 WellPoint shares soared 8.5 percent, or $8.93, to close at $113.90 Tuesday on the New York Stock Exchange. Anthem shares gained about 5.5 percent, or $4.73, to close at $91.23.
Anthem once had been a suitor for Blue Cross Blue Shield of Kansas, but Anthem's $190 million purchase offer was rejected in February 2002. Kathleen Sebelius, then Kansas insurance commissioner, had argued that premiums would rise faster under Anthem ownership than if Blue Cross remained on its own.
Copyright 2018 The Associated Press. All rights reserved. This material may not be published, broadcast, rewritten or redistributed. We strive to uphold our values for every story published.