Dallas — More important than staying undefeated, the Dallas Mavericks found out they can win under adverse conditions.
After falling behind by 17 points to winless Golden State in the first half and being forced into overtime by an incredible three-pointer, the Mavericks led throughout the extra session and won, 101-98, Monday night.
"We'll take it. But we know we didn't play a complete game, and it almost cost us," Michael Finley said. "We were playing their record instead of their team."
Dirk Nowitzki scored 25 points, including the opening basket in overtime that put Dallas ahead to stay. Finley scored 17 points, but he missed 17 of 22 shots.
The Mavericks are 4-0 for only the third time, and they still haven't allowed 100 points in a game. But this one was ugly.
"We were certainly tested, but we responded," coach Don Nelson said.
Jason Richardson forced overtime with a three-pointer from the corner despite being double-teamed with 12 seconds left in regulation. He had a chance to force another overtime, but his three-pointer from the top of the key hit the front of the rim as time expired.
Golden State gave up a 57-43 halftime lead with a miserable third quarter. The Warriors went 3-of-23 -- with one field goal coming on a goaltending call -- and managed only 10 points.
It was the Warriors' 12th straight loss in Dallas since 1999 and their 21st in 22 games overall against the Mavericks.
"We got a little tired, and as a result Dallas picked up their pressure," Warriors first-year coach Mike Montgomery said. "If we kept the pressure on them, it changes everything, but we couldn't do it."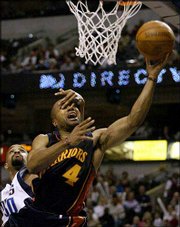 Marquis Daniels made two free throws with 49 seconds left in the third to put the Mavs ahead 68-67 -- their first lead since the opening minutes.
After a back-and-forth fourth, Nowitzki hit an 18-foot fadeaway jumper on the first possession of overtime, and Jason Terry's basket pushed Dallas ahead 92-88.
Josh Howard had 14 points and 13 rebounds for Dallas. Nowitzki also had 10 rebounds.
Richardson led the Warriors with 25 points and 10 rebounds. Derek Fisher had 23 points -- just six after halftime and none in overtime.
"Coming close is no consolation," Richardson said. "It could be ugly, it could be pretty, we don't care. We're searching for a victory."
Erick Dampier, traded from Golden State to Dallas during the summer, made a short hook shot with 1:05 left in regulation to put the Mavericks ahead 86-85. Dampier finished with six points and five rebounds in 29 minutes, two days after a 13-point, 18-rebound game against Memphis.
After Finley hit two free throws with 16 seconds left, Richardson tied it at 88 from the left corner -- over Finley and Daniels.
Nowitzki's 20-foot shot hit the rim as time expired.
The Warriors went on a 20-2 run in the first quarter, including three straight baskets from Fisher, the third a 23-foot jumper for Golden State's first lead.
By the time Fisher hit another long jumper to cap the spurt, Golden State led 22-9 and stayed in front until Daniels' free throws to end the third.
It was the first of four road games in six days for Golden State. Dallas starts the same stretch today at Orlando.
Jazz 102, Nuggets 91
Salt Lake City -- Andrei Kirilenko scored 24 points to help Utah improve to 4-0.
Mehmet Okur had his best game since joining Utah with 12 points and nine rebounds, and Raja Bell added 17 points. The Jazz swept the home-and-home series with the Nuggets, who edged Utah for the final playoff spot last season.
Utah has scored at least 100 points in each of the first four games for the first time since 1995-96.
Denver fell to 1-3. The Nuggets shot 42 percent, their best shooting performance of the young season. Carmelo Anthony led the Nuggets with 17 points and eight rebounds, scoring 12 points in the final period as the Nuggets tried to come back after falling behind by as much as 22.
Earl Boykins added 13 points, and Andre Miller and Greg Buckner scored 11 apiece for Denver.
Kirilenko also had five blocks, four assists and four steals, and Jarron Collins scored 12 for the Jazz, who continued to shoot better than 50 percent from the floor. Utah was shooting 53 percent entering the game and went 36-for-71.
Utah led 56-41 at halftime after Keith McLeod hit a running jumper just before the buzzer. The Jazz picked up the pace after the break with an alley-oop from McLeod to Kirilenko during a 7-0 run. Denver didn't get a field goal in the third period until Greg Buckner's three-point play 3:02 into the quarter.
The Nuggets took advantage of some sloppy play in the fourth quarter and slowly chipped away. Boykins hit a short jumper later in the quarter, then found Marcus Camby with a pass underneath for a dunk that cut the margin to 86-76. But Utah answered with a 15-footer from Bell and a layup by Kirilenko with about five minutes left.
The Nuggets didn't get closer than 11 again until Bryon Russell's jumper cut it to 98-89 with about 1:20 left.
Copyright 2013 The Associated Press. All rights reserved. This material may not be published, broadcast, rewritten or redistributed. We strive to uphold our values for every story published.