Avondale, Ariz. — Dale Earnhardt Jr. lost the argument but won the race.
Earnhardt's crew chief ordered the driver to stay on the track and pass up a tire change late in Sunday's NASCAR Nextel Cup race at Phoenix International Raceway
Following orders reluctantly, Junior pulled away from Jeff Gordon in a pair of overtime laps to win the race. His 15th career victory tightened the championship chase with two races to go.
Kurt Busch overcame a couple of mistakes to finish 10th and held on to the series lead. But the top four drivers are separated by just 48 points heading into next week's event at Darlington, with Busch leading Gordon by 41.
The victory came a week after Earnhardt lost ground in the title chase by crashing through his own carelessness late in the race at Atlanta Motor Speedway. This time, he was steady when it mattered most.
Earnhardt, who had a dominant car through most of the Checker Auto Parts 500, leading a race-high 118 laps, was in third place, trailing Gordon and Casey Mears when a caution came out on lap 282 of the race scheduled to go 312.
Junior argued with crew chief Tony Eury over the radio, lobbying to pit for tires, but Eury made him stay on the track and maintain his position.
Eury, known as Tony Sr., said he insisted Earnhardt stay out because it was so hard to get past lapped cars on the one-mile oval, and "it was just better to keep track position."
Junior had a top-five finish all but wrapped up the previous Sunday in Atlanta when he collided with rookie Carl Edwards and wound up 33rd there to fall to fifth in the 10-race championship chase.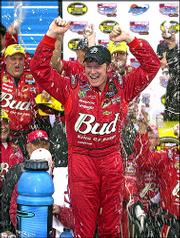 Bourdais wins Champ Car title
Mexico City -- A nervous but dominant Sebastien Bourdais overcame a spin and a sticky gearbox to win his first Champ Car title, beating teammate Bruno Junqueira with a flag-to-flag victory Sunday in the Mexican Grand Prix.
"I'm really, really, really glad its over," said the new champion from LeMans, France. "It's a whole lot of pressure on a 25-year-old guy."
Bourdais managed to win despite sliding on the 42nd lap. The slip cost him about 12 seconds of the lead he held over Newman/Haas teammate Junqueira.
The Brazilian was runner-up in the standings for the third year in a row and wound up second in the race, more than five seconds behind.
Bourdais started on the pole and never trailed, charging to his seventh victory of the season even though a ninth-place finish would have guaranteed him the championship.
Copyright 2018 The Associated Press. All rights reserved. This material may not be published, broadcast, rewritten or redistributed. We strive to uphold our values for every story published.