Baldwin — The scene was eerily similar to Baldwin High football fans as they watched the Bulldogs take on Fort Scott in Class 4A state competition on Saturday night.
It was like last season's 20-7 state defeat to Fort Scott with one big, disheartening difference -- the margin of loss for the Bulldogs. The Tigers rolled deeper into the playoffs with a 38-6 victory at Liston Stadium.
"They pretty much just smacked us in the mouth tonight," Baldwin coach Mike Berg said.
BHS junior quarterback Jeremy Wright and his injured left ankle didn't help the Bulldogs, either.
"It's hard," Wright said, hunched over and using crutches. "It's not where I want to be."
But Saturday it probably wouldn't have mattered if Wright was out there. Fort Scott just was too quick.
Using a no-frills running attack, the Tigers trounced upfield largely on the legs of running backs Garrison Overstake (96 yards, one 32-yard touchdown scamper) and Chad Ammons (67 yards, one 28-yard touchdown run).
Poor punting by Baldwin made matters worse. Four of eight Fort Scott drives started in Bulldog territory.
"They were on our side of the field the entire game," Berg said. "A lot of that has to do because our offense didn't move the ball. We gave them a short field, and you can't give a good team a short field, but it happened."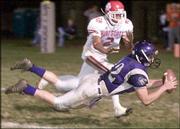 Baldwin's offense sputtered, managing only 30 yards rushing, with 29 yards coming in the first half. The Bulldog's lone points came on a five-yard pass from sophomore Blake Wieden to running back Austin Inzer in the waning seconds of the first half.
After the game, Inzer removed his shoulder pads as tears and beads of sweat streamed down his face. The Tigers had ended the senior's high school career.
Inzer said next year's team would be one to watch.
"They have a tradition ... We're new to (playoffs)," Inzer said, comparing Fort Scott with his team. "We're building a tradition."
Copyright 2018 The Lawrence Journal-World. All rights reserved. This material may not be published, broadcast, rewritten or redistributed. We strive to uphold our values for every story published.