Abuja, Nigeria — Sudan's government said on Saturday it would not budge from its rejection of a no-fly zone for its bloodied Darfur region, undermining a hoped-for accord after months of African Union-sponsored peace talks.
Majzoub Khalifa, leader of the Sudanese government delegation, told The Associated Press he had insisted mediators scrap the latest draft plan that contained a no-fly zone provision and revert to one that did not include a ban on military flights.
The current draft calls for "an effective cease-fire on land and air, in particular: refraining from all hostilities and military actions."
Since the talks began two weeks ago, rebels have repeatedly accused Sudan's Arab-dominated government of using military aircraft to bomb black African villages in coordination with ground attacks by pro-government Arab militia.
The government has denied the charges.
Allam-Mi Ahmad, the chairman of the talks, said mediators were unwilling to change the wording of the document now on the table.
"The mediation team has done the maximum possible to reconcile the different positions," Ahmad said. "It is not worth going back on ourselves."
Ahmad said the talks would continue for no more than one more week -- and might be suspended if there is no agreement by then.
Two previous rounds of talks, convened under international pressure on both sides, failed to produce even partial accords.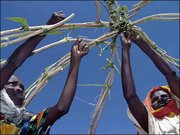 In New York, a U.N. draft resolution on Friday urged warring parties to make peace, promising international support and possible debt forgiveness in return.
But the British draft resolution reiterated that the Security Council would consider "further urgent action" against any party in the Darfur conflict that failed to implement an April cease-fire.
Earlier this week, both rebel groups at the talks -- the Sudan Liberation Army and the Justice and Equality Movement -- said they would sign a draft security accord, dropping demands for more rigid rules on a proposed no-fly-zone and the disarming of Arab Janjaweed militia.
"The government is just wasting our time. For three days we have just been waiting for them to sign," said Justice and Equality Movement spokesman Ahmed Hussain Adam.
Copyright 2017 The Associated Press. All rights reserved. This material may not be published, broadcast, rewritten or redistributed. We strive to uphold our values for every story published.