It depends on whom you ask, really.
On one hand, Kansas University coach Bill Self thinks his big man, Wayne Simien, played much of his junior season as an injured forward, dealing with a groin tweak that just wouldn't go away.
"He played hurt much of last year and averaged 18 (points) and nine (rebounds)," Self said. "A healthy Wayne can certainly be a much better player."
Simien sees it differently, though. The KU senior thinks he certainly can be a much better player, but health doesn't have much to do with it.
"For the most part, I figure I had a healthy year last year," Simien said. "Nicks and bruises are going to come. I missed one game last year, and that was coach's decision."
Simien's outlook is understandable, considering his checkered health history. A strained groin was no big deal to him -- not compared to all the other minor injuries he has put up with, plus a gruesome shoulder injury that made his sophomore year a downer, despite the Jayhawks making it to the NCAA title game.
Heading into his senior year, Simien doesn't want to talk about injuries. He doesn't believe basketball players are doomed to injury. He has no reason to think his 6-foot-9, 255-pound frame is fragile to the point of constant discussion.
Wayne Simien is feeling marvelous right now. So why dwell on the way things were?
"I'm not really hoping for a healthy season. I expect it," Simien said. "I don't go out on any type of court and worry about getting hurt or getting any injury. But if it does happen, I'll know how to deal with it."
If Murphy's law -- anything that can go wrong, will go wrong -- would just stay away from Simien for one season, the college basketball world wouldn't be left wondering how awesome he really could be.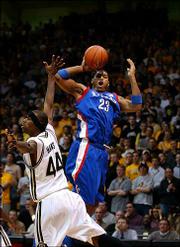 His moves are cutting edge. His shot is sweet. His intensity is ferocious.
His professional potential is hard to ignore.
But it all has been hampered by a tweak here and an ache there. Simien did average 17.8 points and 9.3 rebounds last year, despite being the focal point of opposing defenses in the paint with the foul-prone Jeff Graves and David Padgett playing next to him.
This year, it will be even more intense with Graves' eligibility over and Padgett transferred to Louisville. The starting forward position -- the last position with uncertainty on KU's loaded team -- looks to be up for grabs between freshmen C.J. Giles, Sasha Kaun and Darnell Jackson, with juniors Christian Moody and Moulaye Niang also in the mix.
No matter who emerges, it will be a work in progress until things settle down. But with Self's style firmly in place, the returning players feel a comfort level they haven't felt since Self arrived prior to last season.
"It'll be so much easier leading the young guys," Simien said. "Last year, we all felt like freshmen."
Of course, having an experienced, healthy Wayne Simien calling for the ball in the post can do wonders in making a national championship contender like KU relaxed and ready to roll.
The Jayhawks go as Simien goes.
"Last summer, I didn't play very much getting my shoulder together," Simien said. "This summer, I played and worked out every day. Physically and mentally, this is the best I've felt."
Full name: Wayne Anthony Simien Jr.Class: seniorHeight: 6-9Weight: 255Hometown: LeavenworthHigh school: LeavenworthMajor: sociologyBirthdate: March 9, 1983
Career highs
points
31, vs. Missouri, March 12, 2004
rebounds
17, vs. Texas Tech, Feb. 7, 2004
field goals
12, two times
field-goal attempts
16, three times
three-point field goals
1, two times
three-point attempts
2, vs. Binghamton, Dec. 29, 2003
free throws
18, vs. UAB, March 26, 2004
free-throw attempts
20, vs. UAB, March 26, 2004
assists
5, vs. UAB, March 26, 2004
steals
5, vs. Pacific, March 21, 2004
blocked shots
4, two times
minutes played
43, vs. Georgia Tech, March 28, 2004
Career averages
field goal percentage
56.1
three-point percentage
18.2
free-throw percentage
76.8
rebounds
7.5 rpg
points
13.3 ppg
Copyright 2018 The Lawrence Journal-World. All rights reserved. This material may not be published, broadcast, rewritten or redistributed. We strive to uphold our values for every story published.