A brief chase through downtown Lawrence Saturday night ended when a car being pursued by Kansas University police rear-ended a car stopped at Ninth and Massachusetts streets. Three people were sent to the hospital.
KU Sgt. Gary Wieden said the pursuit began at 10th and Ohio streets when an officer attempted to pull over a gray Oldsmobile Delta 88 for speeding. The driver of the vehicle failed to yield to the police officer and continued on at a high speed.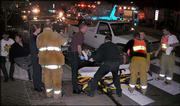 The Delta 88 turned onto Ninth Street, where Baker University student Rachelle Dyer, 24, and substitute teacher Jill Tisdale, 24, were stopped at a traffic signal in a 2001 Oldsmobile Aurora.
"I looked in the rearview and saw him coming and was like, 'Oh, crap,'" said Dyer. "He was going really fast."
Seeing the Delta 88 barreling toward her car, Dyer attempted to edge over to the curb, but did not manage to get out of its path. The Delta 88 rammed into the Aurora, which then hit a Chevrolet pickup truck that also had been waiting at the stop light at Ninth and Massachusetts streets. The driver of the Delta 88 was taken to the hospital as were the man and woman in the pickup. Dyer and Tisdale were not injured.
Wieden said he had not received condition updates on any of the victims, but that he believed the man and woman in the pickup had suffered only minor injuries. All of the victims were in stable condition when they arrived at Lawrence Memorial Hospital.
Lawrence police spokesman Sgt. Paul Fellers said that officials had yet to determine how fast the Delta 88 was traveling at the time of impact, but the length of the skidmarks left by the vehicle indicated a high rate of speed.
Dyer said the car was traveling "at least 40" mph.
Wieden said that he had spoken to the officer who had attempted to pull over the Delta 88, and that the officer had intended to terminate the pursuit once it reached the downtown area. Wieden estimated that the pursuit lasted less than a minute.
Copyright 2018 The Lawrence Journal-World. All rights reserved. This material may not be published, broadcast, rewritten or redistributed. We strive to uphold our values for every story published.