On campus, in Allen Fieldhouse, even in Canada where he played basketball over Labor Day weekend, Moulaye Niang feels the love from Kansas University's men's basketball fans.
"A lot of times when I'll be walking, fans will come up to me and tell me how excited they are that I stayed, so that kind of reminds me I made the right decision," said the junior center from Senegal, who last spring appeared headed to either Fort Worth, Texas, or San Diego, Calif., for his final two years of college.
He toured the campuses of both Texas Christian University and San Diego State in April and May, during a period when he seriously considered leaving KU over playing time issues.
Ultimately, shortly after big man David Padgett decided to pack up and leave for Louisville, the 6-foot-10, 215-pound Niang opted to remain a Jayhawk.
"I'm really glad that I decided to stay," said Niang, who scored 24 points off 5-of-22 shooting with 30 rebounds while playing sparingly in 27 games a year ago.
"It was a tough situation, because they were a lot of people that I didn't want to leave here. Leaving a lot of my friends would have been really hard. But at that point I was frustrated because I also wanted to play. It was quite the dilemma for me."
Niang's mother, who lives in Senegal, offered more than two cents worth into the equation.
"My mom wanted me to stay because she knew that I had made so many friends here, and that I was comfortable here," Niang said.
A talk with coach Bill Self gave Niang additional impetus to stay.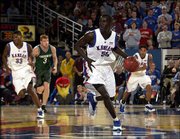 "I'm pretty excited to get back in there and play. Me and coach sat down and talked about my situation and we both agreed that I could contribute this season. So that is what I'm going to do," Niang said.
"I'm glad he decided to stay," Self said. "It was always whatever 'Mou' wanted to do. Everybody loves 'Mou.'
"Moulaye is one of the most likable, fun loving guys we have on our team. The fans all love him. I think he made a very wise decision to finish his career at KU, because he is so well liked by everybody. He's improved, too. Hopefully, he'll be able to help us."
Full name: Moulaye NiangClass: juniorHeight: 6-10Weight: 215Hometown: El Cajon, Calif.High school: ChristianMajor: business financeBirthdate: December 20, 1982
Career highs
points
8, vs. Binghamton, Dec. 29, 2003
rebounds
5, three times
field goals
1, several times
field-goal attempts
5, two times
three-point field goals
none
three-point attempts
none
free throws
6, vs. Binghamton, Dec. 29, 2003
free-throw attempts
6, vs. Binghamton, Dec. 29, 2003
assists
1, four times
steals
3, two times
blocked shots
1, several times
minutes played
20, vs. Colorado, Jan. 22, 2003
Career averages
field goal percentage
31.0
three-point percentage
0.0
free-throw percentage
51.1
rebounds
1.3 rpg
points
1.1 ppg
Copyright 2018 The Lawrence Journal-World. All rights reserved. This material may not be published, broadcast, rewritten or redistributed. We strive to uphold our values for every story published.