Of Kansas University point guard Aaron Miles, Lindy's College Basketball magazine remarked in its preseason issue: "Playmaker on the 'It seems like he's been in college forever' team."
Miles hadn't seen that commentary, but he heard about it.
"I take it as a compliment," he said. "That means our team must be doing well. That means my name must have been mentioned a lot."
When you play in two NCAA Final Fours and come within an overtime loss of performing in a third, you can count on a whole lot more than 15 minutes of fame. In fact, Miles could make a case to be dubbed the dean of current NCAA point guards.
Not forever, though. Four years and you're outta here.
"It's flown by real fast," Miles says of his college career. "Time flies especially when you're doing something you love."
In his three previous seasons with the Jayhawks, the 6-foot-1 senior from Portland, Ore., has played in 108 games, amassed a staggering 738 assists, posted 214 steals and averaged 8.4 points a game.
Miles has been remarkably consistent. His assists-per-game average has fluctuated only slightly -- 6.8 as a freshman, 6.4 as a sophomore and 7.3 as a junior.
At the same time, there has been virtually no change in his yearly shooting percentages -- 40.4 as a freshman, 40.8 as a sophomore and 40.2 as a junior. It's no secret shooting is the weakest aspect of Miles' otherwise broad skill base.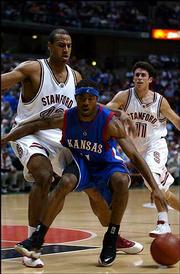 "Everybody can do better," he says when asked about his shooting. "I'm confident. That's all I've got to say."
Notably, however, Miles made one of every three shots he attempted from three-point range last season, an improvement over 29 percent long-range shooting as a freshman and 25 percent as a sophomore.
Virtually unnoticed, too, was how much improvement Miles made in two other critical areas during his junior year. His turnovers plummeted from 112 as a freshman and 123 as a sophomore to just 89 during the 2003-2004 season. And he committed 19 fewer fouls last season than the year before.
Those stats are even more impressive when compared with the number of minutes he played. Miles was on the floor an average of 33.8 minutes a game last season, up from 30.8 as a soph and 27.4 as a freshman.
Close to 34 minutes a game was too many. Often he was gassed, but had to suck it up because there was too much of a dropoff when he went to the bench. That should change this season with freshman Russell Robinson on hand to spell relief.
"We're deep," Miles said. "We're a lot deeper than last year. Now if we get tired, we can come out and we don't lose a beat."
Depth means the Jayhawks should also be able to run more and produce fast-break baskets -- a sure-fire way to deflate an opponents' lungs, as well as spirit.
"We didn't push it that much last year," Miles said, "and that was our fault as players. We didn't push it enough."
Now as one of four seniors on a team that has been to the mountain thrice in three years, but failed each time to reach the summit, Miles and the other three will be packing pitons every game night.
"This is our last year and our last chance," he said. "We want to go out as one of the great teams. Our goal is to win the national championship. That's all that will satisfy us."
Full name: Aaron Marquez MilesClass: seniorHeight: 6-1Weight: 175Hometown: Portland, Ore.High school: JeffersonMajor: communicationsBirthdate: April 13, 1983
Career highs
points
20, vs. CMSU, Dec. 4, 2002
rebounds
9, vs. Oregon, Dec. 13, 2003
field goals
7, four times
field-goal attempts
14, vs. Texas, Jan. 27, 2003
three-point field goals
3, vs. Missouri, March 7, 2004
three-point attempts
6, two times
free throws
10, vs. Maryland, March 30, 2002
free-throw attempts
12, vs. Maryland, Mach 30, 2003
assists
15, vs. Texas Tech, March 9, 2002
steals
9, vs. Iowa Stae, Feb. 16, 2003
blocked shots
2, vs. Oklahoma State, March 1, 2003
minutes played
43, vs. Georgia Tech, March 28, 2004
Career averages
field goal percentage
40.5
three-point percentage
28.6
free-throw percentage
74.5
rebounds
3.2 rpg
points
8.4 ppg
Copyright 2018 The Lawrence Journal-World. All rights reserved. This material may not be published, broadcast, rewritten or redistributed. We strive to uphold our values for every story published.