Mom's home cooking caused Michael Lee to put on 10 unwanted pounds during the summer of 2003 -- the summer he spent rehabilitating a knee injury in his hometown of Portland, Ore.
A healthy, fit Lee resisted the temptation to return to the great Northwest during the summer of 2004. Kansas University's senior guard elected to work out and take six hours of classwork while dedicating himself to a stellar final year.
"My mind-set this summer was to work every day to get better," said Lee, a 6-3, 215-pound shooting guard. "I set out to do that. Every day I'd get up, shoot, run, get in the weight room.
"I've got two goals this year -- to win a national championship and graduate from college. That was mind-set the whole summer. It's all I thought about the whole summer."
Lee, who thinks "there's a good chance" he can accomplish both goals this school year, spent the summer putting up thousands of shots while working on his ball-handling and defense.
The work caught the attention of coach Bill Self early in pre-Canada-tour workouts.
"The guy that came back in the best condition of anybody and more prepared to practice than anybody was Michael Lee," Self said. "Michael is noticeably different from last year. He's a senior. He wants it."
Lee, who averaged 6.4 points a game off 37.5-percent three-point shooting (23 of 65) a year ago, played in just 24 games because of a collarbone injury.
Of course, he's hoping to play a lot of minutes in all the Jayhawks' games this season.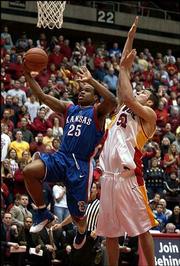 "I think all the players on this team are more than capable of being able to start and play a lot of minutes, depending on who shines the brightest earliest," Lee said. "For me, I expect to do everything I can to win. It's my only goal this season winning -- national title, whatever it takes.
"If it's me being more vocal on the court at practice, watching game tapes, anything ... I'll do it."
He said competition for playing time would be good for everybody.
"It's always going to be a fight," he said, "not just because you fight for minutes. The competitor in you will make you try to beat out the man in front of you. It makes the team better. It's nothing personal. J.R. (Giddens) will come at me as hard as he can. Jeremy (Case) will come at J.R. as hard as he can, and Russell will come to Jeremy. It's how it works."
Lee said the Jayhawks were ready to go out with a bang in the second year of the Self era.
"This season is a lot different for all of us. Last year we were going through losing somebody that we developed a pretty good relationship with," he said of former coach Roy Williams, "and we tried to develop a new relationship.
"That's hard to pick up. This year we know what to expect from coach Self which will make it go smoother.
"Instead of family and friends always wanting to know how it's going, what's going on, you can chill and relax. I think it'll be a great year."
Self said he'd embrace getting to coach Lee one final season.
"He's a great kid," Self said. "He came to KU not knowing how much he'd play. He knew he had to be a great teammate to play, bust his butt to play. Look at him now, sixth man on a national runner-up team and basically our sixth man last year."
Full name: Michael Andrew LeeClass: seniorHeight: 6-3Weight: 215Hometown: Portland, Ore.High school: JeffersonMajor: criminal justiceBirthdate: February 3, 1983
Career highs
points
16, vs. Kansas State, Jan. 14, 2004
rebounds
8, two times
field goals
5, vs. Oklahoma, Feb. 29, 2004
field-goal attempts
9, two times
three-point field goals
3, vs. Marquette, April 5, 2003
three-point attempts
7, vs. Michiga State, Nov. 25, 2003
free throws
6, two times
free-throw attempts
6, two times
assists
6, vs. Colorado, Jan. 25, 2004
steals
3, two times
blocked shots
1, several times
minutes played
34, vs. Michigan State, Nov. 25, 2003
Career averages
field goal percentage
43.2
three-point percentage
41.9
free-throw percentage
75.0
rebounds
1.8 rpg
points
40 ppg
Copyright 2018 The Lawrence Journal-World. All rights reserved. This material may not be published, broadcast, rewritten or redistributed. We strive to uphold our values for every story published.