CBS Sportline's list of the country's top small forwards does not include Kansas University senior Keith Langford.
"It's nothing new," Langford said of Web sites and magazines that overlook the 6-foot-4 sweet-shooting slasher's contributions.
"You take the good with the bad," added Langford, who was also tapped No. 6 small forward in the country by Lindy's and No. 7 slasher by Athlon. "I don't listen to it. You've got enough people kissing your (bleep) all the time. It doesn't matter."
Langford is comfortable enough to care only what his loved ones, teammates and coaches think of him. And not surprisingly, they think highly of him.
Having been to two NCAA Final Fours in three seasons, the Fort Worth, Texas, product is having one of the most noteworthy careers in KU history.
"Keith came to Kansas as a seventh, eighth man. If he has a big senior year he can finish between second and sixth all-time career scoring," KU coach Bill Self said.
Langford has 1,408 points for his career, ranking 18th on the school chart.
"Second behind Danny Manning (2,951 points) or third behind Nick Collison (2,097 points), that is impressive to say the least," Self said.
What's impressive is the way Langford scores. He has made 71 of 223 three-pointers for his career and overall has hit 526 baskets in 1,044 tries for 50.4 percent.
"This team can feed off Keith from an energy standpoint more than anybody else," Self added of the player who electrifies the Allen Fieldhouse crowd when he slashes to the hole for dunks and layups. "He can provide more energy than anyone else."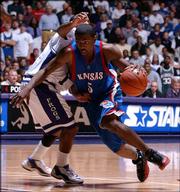 Langford, who is on the preseason Wooden Award list and a member of Dick Vitale's third-team All Rolls Royce squad, wasn't able to dazzle as much as he wanted last year because of a right knee injury that was scoped after the season.
"Personally, me as an individual there can't be a more hungry player around," said Langford, who practiced little, if any the last month of his junior season. "The way I finished the season, being hurt and not able to practice, not feeling I helped as much as I could. If anybody had desire it'd be me."
Before this year's Late Night in the Phog, Langford proclaimed he has recovered from the surgery to repair cartilage damage in the right knee.
"I am very healthy for the first time in seven, eight months," Langford said. "I am really, really looking forward to playing with a free mind, not injured, obviously. I'm glad to finally have the injuries out of the way. It's good to know I shouldn't have any more issues."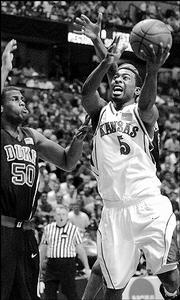 If Langford does have problems this year, KU has better depth. Newcomers Russell Robinson and Alex Galindo are primed to help on the perimeter with freshmen Darnell Jackson, Sasha Kaun and C.J. Giles also expected to play a lot.
Langford likes the mix of veterans and newcomers.
"They will all help tremendously," Langford said of the rookie class. "We need help. We don't need them to be superstars. If they help and complement, they'll be fine. This is not a program of individuals or superstars. If one guy goes down, 12 will help pick them up."
Led by the senior leaders.
"It's easier to lead because we have three other guys who are seniors," Langford said. "Me, Mike, Aaron and Wayne keep our minds on what everybody is doing. We are all leaders. There are no 'Is' in team."
Slam and Street and Smith are among the magazines tapping KU No. 1.
"I try not to pay attention to that. It's good a lot of people think we'll be good, but they use that as ammunition. Just because they pick you in the preseason doesn't mean you can do anything. I like what I see in this team. I like what's going on," Langford said.
"The talent here gives us an opportunity to win every game. The team we have gives us a great opportunity to win every time we step on the floor. I'll not say we will win every game, but talent gives us an opportunity. It's definitely special."
Full name: Andre Keith LangfordClass: seniorHeight: 6-4Weight: 205Hometown: Fort Worth, TexasHigh school: North CrowleyMajor: journalismBirthdate: September 15, 1983
Career highs
points
27 vs. Arizona, Jan. 25, 2003
rebounds
10, four times
field goals
11, two times
field-goal attempts
19, three times
three-point field goals
4, vs. Iowa State, Jan. 31, 2004
three-point attempts
7, two times
free throws
14, vs. Villanova, Jan. 2, 2004
free-throw attempts
18, vs. Villanova, Jan. 2, 2004
assists
6, five times
steals
4, vs. UT Chattanooga, Nov. 21, 2003
blocked shots
3, three times
minutes played
41, vs. Iowa State, Feb. 21, 2004
Career averages
field goal percentage
50.4
three-point percentage
31.8
free-throw percentage
66.4
rebounds
4.4 rpg
points
13.0 ppg
Copyright 2018 The Lawrence Journal-World. All rights reserved. This material may not be published, broadcast, rewritten or redistributed. We strive to uphold our values for every story published.