Once upon a time, Asheville, N.C., was strictly a North Carolina University basketball town.
Then native son Roy Williams went to Kansas University, and Asheville produced pockets of Kansas University fans as well at Tar Heel boosters.
Now, even though Williams is back at UNC, Christian Moody reports that many of the good folks of Asheville have not forsaken KU.
"No way," Moody said. "There are tons of KU fans still there -- my brothers, friends of my parents and people at church. I know of at least 25 people who have KU T-shirts. It's been a big change since I came out here."
A quarter of a hundred KU faithful isn't quite a ton, but the message is clear. As long as Moody, a 6-foot-7 junior forward, is on KU's basketball team, crimson and blue will be displayed in Asheville.
Moody graduated from the same high school as Williams.
"There's a good-sized picture of him at the school," Moody said. "Everybody sees it before every game."
Yet Moody is the only Roberson High grad who ever has played for Williams, even if it was for only a year. Moody had been touted to Williams by Roberson High coach Rich Sizemore as a potential walk-on, and Williams swallowed the bait.
Then when Williams pulled up stakes after 15 seasons at Kansas in order to return to his alma mater, Moody didn't hesitate. He stayed put.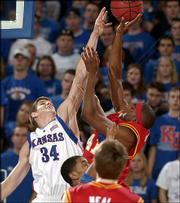 "Coach Williams definitely got me here," Moody said. "He's an amazing coach, but I'm here with this team. My teammates are the ones who keep me here."
Most walk-ons are mop-up guys, yet Moody has played in 46 games over the last two seasons.
Last year he averaged seven minutes a game -- a high number for a walk-on -- working mainly as a back-up post player.
With the addition of freshmen C.J. Giles, Darnell Jackson and Sasha Kaun, Moody could return to the traditional non-playing walk-on role this season.
"I don't know how much my role will change," he said. "I know my confidence keeps going up. But I need to work on my strength, as always."
Moody also needs to become more of a scorer. Although technically sound on defense, Moody took only 22 shots in the 25 games he played.
In that regard, he has spent extra time with former KU All-American Danny Manning on ways to produce more points.
"We've been working on a step off the post game," he said. "I like it more than the banging inside game because I don't have the weight to move people like Wayne (Simien) or Darnell."
One area of Moody's overall package that needs little im-provement is academics. A pre-med major, he was named to the Big 12 All-Academic team last season.
Full name: Mark Christian Daniel MoodyClass: juniorHeight: 6-7Weight: 205Hometown: Asheville, N.C.High school: T.C. RobersonMajor: pre-medBirthdate: December 28, 1983
Career highs
points
7, vs. Texas Tech, Feb. 7, 2004
rebounds
4, two times
field goals
3, vs. Texas Tech, Feb. 7, 2004
field-goal attempts
4, vs. Kansas State, Jan. 28, 2004
three-point field goals
none
three-point attempts
none
free throws
2, two times
free-throw attempts
4, vs. Illinois-Chicago, March 19, 2004
assists
2, vs. UNC Asheville, Jan. 2, 2003
steals
1, several times
blocked shots
1, several times
minutes played
20, vs. Nebraska, March 3, 2004
Career averages
field goal percentage
57.1
three-point percentage
0.0
free-throw percentage
43.5
rebounds
0.8 rpg
points
0.9 ppg
Copyright 2018 The Lawrence Journal-World. All rights reserved. This material may not be published, broadcast, rewritten or redistributed. We strive to uphold our values for every story published.