Kansas University faculty, staff and retirees presented a $24.9 million gift Saturday to a special fund for scholarships, fellowships and other special programs.
An oversized check with the amount printed on it was displayed during a presentation at the end of the first quarter of KU's football game with Colorado at Memorial Stadium.
The money was pledged or raised during the University Family Campaign, KU and KU Endowment Association officials said. The money comes from 3,205, or 27 percent, of faculty, staff and retirees from KU's four campuses.
The University Family Campaign is part of KU First: Invest In Excellence. Led by committees of faculty, staff and students, the campaign seeks to raise gifts from classified and unclassified staff members and retirees.
"The extraordinary generosity of KU faculty, staff and retirees demonstrates an unwavering support for the quality of the university," KU Chancellor Robert Hemenway said in a news release. "They are a major reason behind the success of KU First."
Gifts raised by the campaign count toward the goal of raising in excess of $600 million for KU First.
Participating in the announcement were Forrest Hoglund, chairman of the KU First campaign; John Ferraro, professor and chairman of hearing and speech at KU Medical Center; Jerry Bailey, director and associate professor of teaching and leadership, and Hemenway.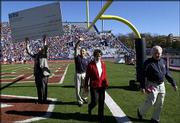 Copyright 2018 The Lawrence Journal-World. All rights reserved. This material may not be published, broadcast, rewritten or redistributed. We strive to uphold our values for every story published.