Officials are contemplating a $35 million expansion to Lawrence Memorial Hospital, and are planning to ask area residents to donate at least $5 million to the effort.
Hospital officials confirmed last week they'll formalize plans early next year to improve the hospital's surgery, obstetrics and emergency departments, along with converting 60 semi-private rooms into fully private rooms.
"Health care has become so competitive and patient-oriented that we need to add these services, in part, just because other hospitals in the area are doing the same thing," said Joe Flannery, vice chairman of the hospital's board of directors. "It's always important for us to remain competitive."
Final costs for the project haven't been determined but are expected to top out between $30 million and $35 million, said Gene Meyer, the hospital's president and chief executive officer.
LMH is counting on the community to support the project. For the first time in its history, the hospital is expected to launch a major capital campaign to raise $5 million from area residents to help pay for the project.
"We view this capital campaign as an essential component to the project," Meyer said. "We can't do this alone. We'll need the public's help."
The hospital's board of trustees is expected to consider giving final approval to the expansion and capital campaign in the first quarter of 2005. Construction probably would last three or four years, Meyer said.
Multiple projects
The expansion would affect a variety of services provided by the hospital. Meyer said there were four major parts of the expansion plan: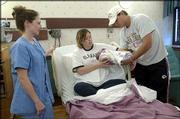 Private rooms. Meyer said it would be important for the hospital to convert its remaining 60 semi-private rooms into fully private rooms that house only one patient at a time.
"Health care is probably best provided in an environment with a high degree of privacy," he said. "Sometimes it is very difficult for everybody to do what they need to do when there are two patients and two families in a room together."
The conversion would mean the hospital would need to build an additional wing to house the new rooms, but Meyer said he expected the hospital's bed total to remain near 173. Each room, though, would be larger and have better video and Internet technology, more couches, chairs and home-like furniture to accommodate families.
Lawrence Memorial Hospital's net revenue for 2004 is budgeted at $106 million, an increase of $7.98 million (8.1 percent) over 2003.Total expenses are budgeted at $101 million, an increase of 7.9 percent.
Obstetrics. A continued increase in the number of babies delivered at the hospital has created a need for more rooms in the obstetrics department. The hospital delivers about 1,200 babies per year, up from about 750 eight years ago.






Gene Meyer, president and chief executive of the nonprofit Lawrence Memorial Hospital, recently said the hospital was looking at ways to expand services into new geographic areas to attract patients from outside Douglas County.In July, he said the hospital was contemplating opening a clinic in De Soto and looking at ways to attract more patients from Johnson County and Topeka. But the hospital already had begun some strategies to attract new patients from outside the immediate area.LMH's oncology, sleep and wound-healing centers, all of which opened within the past three years, were designed to attract out-of-county patients. Hospital officials are seeking a partner to begin offering angioplasty services at the hospital, which also likely would attract patients from outside the area. In August, LMH opened the Bob Billings Cardiac Evaluation Center to give area residents a place to receive cardiac treatment locally.LMH also operates family practice offices in Eudora, Tonganoxie and Baldwin.
Plans call for the expansion to add as many as six new birthing rooms. The unit was expanded and refurbished in 1996, but Meyer said the practice of obstetrics had changed since then. Specifically, when the hospital completed the 1996 project, the national trend was for new mothers to stay in the hospital for only 24 hours. After consumer groups complained, the trend now is for new mothers to stay 48 hours or more. The increased time puts a strain on the unit's eight rooms.
"At peak times, we're having to relocate mothers to another floor," Meyer said. "That has led to a high degree of patient dissatisfaction when they have to move."
Emergency Department. Patient numbers also have increased in the emergency department. Emergency room visits have increased to 29,000 per year, up from about 20,000 patients eight years ago. Meyer expects the 7,800-square-foot emergency room will need to be expanded by as much as 50 percent to meet demand.
"Our current emergency room doesn't really allow for the spikes in volume that we see," he said. "And its layout doesn't really allow for a high degree of privacy for patients, and that needs to change."
Surgery. Both age and space constraints are concerns with the hospital's current surgical area, which has six operating rooms. Meyer said demand created by a growing community means the hospital needs two to four new operating rooms.
The existing operating rooms are more than 20 years old. Meyer said newer operating rooms would be designed to allow surgeons to work more efficiently.
Current plans call for the existing operating rooms to be remodeled, but several surgeons have asked the hospital to consider building an entirely new surgery center on the LMH campus. Meyer said the surgeons expressed concern that remodeling the old rooms would not create the efficiency benefits that newly constructed space would provide. He said surgeons also were concerned about how surgeries would be conducted during the remodeling process.
Meyer said a new surgery center "may be significantly more than we can afford," but said hospital officials would review the request.
Growing competition
If board members agreed to move forward with the expansion project, the $5 million capital campaign would be launched in early 2005, Meyer said.
The hospital's endowment association would run the campaign. It would be the first time LMH has undertaken a true capital campaign, although the endowment association has raised smaller amounts of money for specific projects or medical equipment.
The idea of a not-for-profit hospital conducting a campaign isn't unique. Cindy Samuelson, a vice president with the Kansas Hospital Assn., said hospitals in Manhattan, Pratt, Topeka and the Johnson County area all recently have conducted capital campaigns.
She said fundraising has become more important to hospitals as Medicare payments have failed to keep up with the rising costs of providing health care services.
"Most hospitals in today's market find it difficult to make a profit or break even, so fundraising is a preferred option," Samuelson said. "Having the community get involved to help a hospital be the best it can be is usually a good strategy."
Hospital officials said they thought the campaign would be a good opportunity to educate the public about LMH. The hospital is a quasi-city agency that is run by a board of trustees appointed by city commissioners. It does not, however, receive any tax dollars to support its operations.
Flannery said the campaign and the expansion project are designed to keep it that way. He said the expansion project should allow the hospital to continue to compete with what's expected to be new health care providers that emerge in the area.
Three hospitals -- Olathe Medical Center, St. Luke's Health System and Shawnee Mission Medical Center -- have each bought property for possible hospital sites along the Kansas Highway 10 or Kansas Highway 7 corridors in western Johnson County.
"We have to pay attention to that because that is getting pretty close to Lawrence," Flannery said.
Copyright 2018 The Lawrence Journal-World. All rights reserved. This material may not be published, broadcast, rewritten or redistributed. We strive to uphold our values for every story published.