Chelsea, Mass. — Few have anything good to say about this year's run-up in oil prices. They do, though, at World Energy Alternatives, a biodiesel company with a shiny antique Gulf Oil pump in the lobby -- a hint that petroleum's proudest days may have passed.
Soaring petroleum prices have narrowed the price gap between conventional oil-based diesel and more expensive biodiesel made from American soybean oil.
"We're actually having a bit of a renaissance with people whom we tried to get excited two, three, four years ago," said Gene Gebolys, president of World Energy Alternatives, in Chelsea., Mass. "They're picking up the phone again and saying, 'Hey, we think this makes sense now.' "
The escalation in petroleum prices has delivered the most favorable marketing moment for biodiesel and other alternative energy sources in 25 years. The rise has bestowed an immediate windfall on some companies and helped to assure the place of alternatives in the future energy mix.
But even ardent advocates expect the foreseeable future to look much like the present. Their little sector can only grow so fast, even with a welcome shove from pricier petroleum.
'Teachable moment'
"Right now, every gallon that gets made gets sold," said Ron Lamberty, an ethanol market developer for the American Coalition for Ethanol, a trade group that promotes the corn-derived gasoline substitute. "The push -- it had already started."
Even before this year's petroleum run-up, output of leading alternative energy choices like biofuel, solar and wind was expanding at 20 percent to 30 percent yearly, according to government and industry sources.
Worry over climate change had helped producers of alternative energy. The invasion of Iraq also had made Americans more acutely aware of their own dependence on foreign oil.
Then, recent months stirred the broadest doubts about energy supplies and pricing since the Arab oil embargoes of the 1970s, according to alternative energy advocates. Hurricane damage to rigs in the Gulf of Mexico, attacks on Iraqi pipelines, disruptions elsewhere, and burgeoning Asian demand all helped push up crude oil prices by 80 percent during the past year.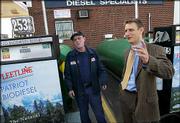 Products made from oil took a hit: Prices for gasoline shot up 30 percent while diesel fuel jumped nearly 50 percent, according to the Department of Energy. Heating oil went up, and so too did the natural gas that fuels electricity plants -- the ones that solar and wind power want to shoulder aside.
The price stampede also has opened many more minds to options long championed by environmentalists.
"It creates what I would call a 'teachable moment,'" said Nancy Hazard, director of the Northeast Sustainable Energy Assn. "We've been preaching solutions for a long time, but the motivation hasn't been there for people to look at them until recently."
The new enthusiasm has been particularly strong for ethanol and biodiesel, both U.S. crop-derived fuels blended with conventional transportation fuels as extenders. The ethanol industry produced a record daily average of 225,000 barrels in August, according to the Renewable Fuels Assn.
Closing price gap
Decades old in Europe, the biodiesel industry only began to expand in the United States during the late 1990s. The fuel has been adopted by about 500 heavy vehicle fleets for schools, cities, businesses and other institutions on the strength of its cleaner emissions and made-in-America cachet, the industry's National Biodiesel Board says.
But the fuel's higher price has slowed acceptance. And relatively few American cars can run on diesel.
Barry Redmond, an attendant at World Energy Alternatives, likes to tell drivers that biodiesel burns better and comes from America. Drivers usually like that.
But they also see the added cost for biodiesel, recently about 20 cents a gallon.
"Generally, people with the big trucks, they don't want to pay the higher prices," Redmond said.
With the price gap closing, though, the industry sold about 20 percent more biodiesel during the past year, for a total of 30 million gallons, the Biodiesel Board estimates. In some Midwestern states that mixed biodiesel into at least half their fuel, blends suddenly account for about 70 percent.
A just-adopted federal tax credit, worth up to 20 cents a gallon to blenders, will be expected to push biodiesel prices lower when the credit takes effect in January.
"Now that we have the incentive, and if oil prices stay high, then, sure, we will see a huge increase in demand for biodiesel," said Jenna Higgins, spokeswoman for the Biodiesel Board.
"The interest for both ethanol and biodiesel is going through the roof," said Gebolys at World Energy Alternatives, which both makes and sells the alternative fuel. The Gulf brand on the orange-and-white classic pump in the lobby bespeaks its investment backing from gasoline wholesaler Gulf Oil Limited Partners.
Some conventional fuel companies have claimed a considerable stake in alternative energy ventures because they, too, predict more favorable marketplace economics.
"We're getting to a place where a number of alternative energy sources offer price stability or a pricing hedge," said co-founder Ron Pernick at Clean Edge, a San Francisco energy market researcher.
Oil reserves are forecast to last only about 40 more years. Still, just 6 percent of U.S. energy now comes from renewable sources, and that includes conventional hydropower and wood, according to the U.S. Department of Energy. Less than 1 percent trickles out of the leading alternative energy sources combined: wind, solar and biofuel.
Successful businesses
Though the sector remains modest, some companies are booming these days.
Consider once-quiescent solar power. United Solar Ovonic opened a plant just last year in Auburn Hills, Mich., to make flexible electricity-generating solar cells that can be unrolled and stuck to a roof. Company sales jumped threefold in the quarter ending in September, compared with the same time last year, according to president Subhendu Guha.
In the town of Harvard, Mass., Solar Design Associates, an architectural firm founded at the peak of solar power excitement in the 1970s, is busier than ever, said Steven Strong, company president. Inquiries have doubled in the past year, and project commitments are up by at least 60 percent.
Yet most energy investments play out over years, so most alternative energy enterprises haven't been bombarded with new orders -- beyond the already stiff rate of growth. Also, some perennial obstacles have stayed in place, including the high upfront costs of installing green technology and lackluster government backing compared with fossil fuels, according to green advocates.
"There's a limit to how fast you can grow," said Glenn Hamer, a lobbyist at First Solar, a maker of commercial-scale solar electricity panels in Phoenix.
Copyright 2017 The Associated Press. All rights reserved. This material may not be published, broadcast, rewritten or redistributed. We strive to uphold our values for every story published.