J.R. Giddens might be a sophomore on paper, but after a year full of trials and tribulations -- both on and off the court -- the Oklahoma City, Okla., native might feel if he's preparing for his senior season at Mount Oread.
"I can feel like a sophomore, but I can't play like one," said Giddens, who experienced everything from a wicked car wreck this past summer to rumors he was ready to jump to the NBA last spring.
"There were definitely a lot of events that helped me grow up," continued the 6-foot-5, 185-pound Giddens, who also during the course of his freshman season watched his mother suffer through a serious sickness while learning how to adjust from being a prep phenom to a cooperative collegiate teammate.
"I'd never been a role player on a team. I'd always been a star, so it was kind of an adjustment," said Giddens, who by season's end seemed to have adjusted quite nicely, as his 11.3 points and 3.6 rebounds per contest and 40-plus shooting percentage from three-point range would suggest.
"Instead of playing just with my talent, I had to actually play basketball. So it was a little harder, but I got the hang of it."
Now Giddens, who also endured offseason surgeries to repair a fractured left foot and a torn meniscus in his right knee, said he wanted to be an even more complete player for KU coach Bill Self this season.
"If I want our team to be successful, I have to be a team player," Giddens said. "I'm not here for me, I'm here for a national championship. In order to do that, you have to have both feet in the circle, and that's being a team player and trying to make everyone better around you."
Giddens said in addition to working on strength and speed drills like fellow KU teammates, Jayhawk fans may notice better dribbling skills and defensive play from Giddens, aka Jay Reezy.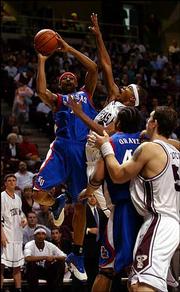 Whether that translates into more slashing drives to the basket and high-flying slams -- Giddens' trademark moves during his time at John Marshall High -- remains to be seen.
"Last year in our system, I was a shooter. That wasn't really my job to go to the basket," said Giddens, who knocked down 74 of the 182 three-pointers he attempted, including a career-high 7-of-12 performance from downtown and personal-best 24 points against Iowa State in February.
"I think I'll go to the basket a little more. I'll be better equipped to put the ball on the floor more this year than last year. In high school, I was more of a slasher. If I got tired or someone backed up off me a little, I'd shoot.
"But most of the time I was going to the basket. Right now do we really need me to go to the basket? We got Wayne (Simien) in the middle, Keith (Langford) is going to slash. I'm not going to say I won't go to the basket. Whatever the defense gives me I'm going to take. But I just want to be the kind of player that every coach wants to have on their team."
Full name: Justin Ray GiddensClass: sophomoreHeight: 6-5Weight: 185Hometown: Oklahoma City, Okla.High school: John MarshallMajor: communicationsBirthdate: February 13, 1985
Career highs
points
24, vs. Iowa State, Feb. 21, 2004
rebounds
10, vs. Fort Hays Sate, Dec. 10, 2003
field goals
8, vs. Iowa State, Feb. 21, 2004
field-goal attempts
18, vs. Iowa State, Feb. 21, 2004
three-point field goals
7, vs. Iowa State, Feb. 21, 2004
three-point attempts
12, vs. Iowa State, Feb. 21, 2004
free throws
4, vs. Binghamton, Dec. 29, 2003
free-throw attempts
5, vs. Binghamton, Dec. 29, 2003
assists
3, vs. UC Santa Barbara, Dec. 20, 2003
steals
3, vs. Binghamton, Dec. 29, 2003
blocked shots
2, four times
minutes played
40, vs. Iowa State, Feb. 21, 2004
Career averages
field goal percentage
47.5
three-point percentage
40.7
free-throw percentage
66.7
rebounds
3.6 rpg
points
11.3 ppg
Copyright 2018 The Lawrence Journal-World. All rights reserved. This material may not be published, broadcast, rewritten or redistributed. We strive to uphold our values for every story published.