Eudora — In Tuesday night's first-round Class 4A football playoff game, Eudora High had a 10-point halftime lead, but nearly allowed a third-quarter meltdown that would have ended the Cardinals' season against the Anderson County Bulldogs.
On Saturday, holding a commanding 28-point lead against Coffeyville, Eudora used the third quarter to put the game away.
"We couldn't let it go, because we want to keep playing," Eudora fullback Brendan Jackson said after EHS cruised to a 35-8 victory. "I thought it was going to be a low-scoring game and close."
The Cardinals won the regional title and will face Topeka Hayden on Friday night in Eudora. Hayden extended its season with a 27-14 victory over Tonganoxie.
Coffeyville's opening offensive possession set the tone for the entire afternoon. Senior quarterback Jayrd McCullough fumbled on the game's second play after being sacked by EHS senior defensive end Joe Faulk. Eudora capitalized three plays later, when junior running back Miles Cleveland scored on a 20-yard run.
It wasn't until late in the third quarter until Coffeyville was able to do anything on offense. Most of the Golden Tornado's possessions were stymied by fumbles -- eight of them, to be exact.
"I was very surprised," EHS coach Gregg Webb said. "They had a terrible situation where they lost their center the week before, and you would think that with a week of practice they would get that situation straight. But, we put a nose on top of that center and gave him a really hard time blocking him.
"I looked over there a couple of times after they lost the ball, and their coaches were putting their hands up. If you can't snap the ball to your quarterback, you're going to be in a world of trouble."
After running the ball with success early against Coffeyville, Eudora stuck with it. Senior Paul Smith and junior Luke Abel each added touchdown runs of their own to extend the Cardinals' lead to 21-0 after the first quarter. Abel was Eudora's horse in the game's first 24 minutes, gaining 122 of his team-leading 145 rushing yards in the first half.
Eudora's defense held Coffeyville to just 77 yards of offense in the first half, while the Cardinals amassed 256.
But the third quarter was when Eudora broke Coffeyville mentally. The Cardinals began the half with the ball at their own 10-yard line. A 14-play drive eventually stalled at the Coffeyville 32, but it ate nearly seven minutes off the clock. Eudora showed its heart on the trek, however, with a 44-yard run by Jackson on third-and-13 and later on a five-yard run by Abel on fourth-and-one.
Eudora was rewarded, when McCullough again fumbled for the seventh time on the first play of Coffeyville's ensuing possession. Three plays later, Jackson finished the Eudora scoring with a 28-yard touchdown run to seal the Golden Tornado's fate.
Jackson complemented Abel with 99 yards on 11 carries.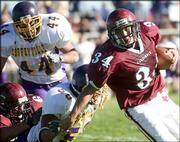 In five days, Eudora won two playoff games. Even though the victory against Coffeyville came a little easier than anticipated, Webb is making sure his players realize that even though they took home a regional trophy Saturday, there is much more to be claimed.
"That was about as well as we've played, and that reminded me of the old-time, physical football, just knocking them off the ball," he said. "I told them to take tonight and enjoy it, take tomorrow and don't think about anything and be ready for Monday. The challenge is the best football now."
Copyright 2018 The Lawrence Journal-World. All rights reserved. This material may not be published, broadcast, rewritten or redistributed. We strive to uphold our values for every story published.