It just figures, doesn't it?
As soon as Kansas University's football offense shows some signs of life -- for the first time in nearly a month -- against Colorado, the quarterback succumbs to injury, misses the rest of the game and causes the rejuvenated offense to derail almost instantly.
That's what this football season has come to for KU -- no breaks, no boom, and, with Saturday's 30-21 loss to the Buffaloes at Memorial Stadium, no chance of going to a bowl game in 2004.
With a 3-6 record and two games remaining, the Jayhawks won't finish with a winning record for the ninth straight year. Showdowns with Texas and Missouri are all that are left in a season quickly becoming one to forget.
Despite the setback, coach Mark Mangino insisted Saturday that there still was plenty for the Jayhawks to play for -- if not for themselves, than to have a chance to ruffle an already wacky Big 12 Conference race.
"If we're not going to have a party at the end of the year," he said, "maybe we'll spoil somebody else's."
It looked so promising in the early going, too, when quarterback Jason Swanson put together two drives that led to two John Randle scores and a 14-0 lead just four minutes in.
Swanson threw for 67 yards on 3-of-5 passing, nailing Lyonel Anderson on a 19-yard completion and finding Mark Simmons twice -- one for 15 yards and a game-opening flea-flicker that went for 33 yards.
But on KU's third drive, Swanson was hit by CU defensive tackle Matt McChesney as he threw a pass. The KU junior came up in pain, stayed in for one more play, then motioned to be taken out -- the victim of an apparent shoulder injury. It looked almost identical to what regular starter Adam Barmann suffered a week ago at Iowa State -- an injury that knocked the sophomore out for the season and put him in street clothes Saturday.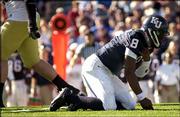 "He didn't look too happy when I got off of him," McChesney said of Swanson. "I wasn't trying to hurt anyone out there, but I got a pretty good lick on him."
Swanson wasn't even an option to return to the game, according to Mangino, who said the injury was "fairly serious."
The setback made walk-on John Nielsen the starting signal-caller, and despite the senior doing an admirable job -- 21-of-31 passing for 183 yards and a touchdown -- a week's worth of solid preparation for Swanson to lead the offense was lost quickly with his damaged right arm.
Nielsen's first play of the day foreshadowed which way Saturday's game was about to head -- a shovel pass to Randle, a decent gain, a fumble, a recovery by Colorado's Dominique Brooks and a 41-yard return for a score after breaking an attempted tackle by KU's new quarterback.
It was the third straight week the Jayhawks had given up a fumble return for a touchdown.
"I don't even know what happened, really," Nielsen said. "I just saw a guy coming with the ball, and I tried to take him down. That was a big play for them."
Eventually, Colorado grabbed the lead early in the third quarter, and though a 19-yard touchdown pass from Nielsen to Brandon Rideau put the Jayhawks up 21-17 midway through the third, the Buffs had too much time to take the lead and make it stick. They did, with a 48-yard punt return from Stephone Robinson for a touchdown and a four-yard run by Lawrence Vickers late to put it away.
"They made plays in the second half, and we did not," Mangino said. "For us, it's a situation where we felt really good coming into the game with our preparation on offense. We practiced very well this week. We just couldn't make enough plays."
There was no early word on Swanson's status for the rest of the season, but Mangino feels better about the mess at quarterback after Nielsen's showing Saturday.
4:45Time it took for KU to bolt to a 14-0 lead against Colorado6.75Yards per play with Jason Swanson as Kansas' quarterback4.0KU yards per play after Swanson was knocked from the game2/3Offensive touchdowns scored by Colorado/Kansas
"Give credit to John," Mangino said. "I thought under difficult circumstances, he did some things really well today. Just three weeks ago, he was running the scout-team offense."
Regardless, any hopes KU had of salvaging the season are shot. The Jayhawks are 1-5 in the Big 12, can't seem to win at home or on the road and now are unsure if their starting quarterback next week will be a scholarship player or not.
Given the recent history of quarterback setbacks at KU, it just figures that a prime opportunity to right the wrongs Saturday turned into nothing more than another painful day at the office.
"I don't want to get used to quarterbacks getting hurt," Mangino said. "I don't know how to explain it. I just don't."
Copyright 2018 The Lawrence Journal-World. All rights reserved. This material may not be published, broadcast, rewritten or redistributed. We strive to uphold our values for every story published.