San Diego — Flying low over the Sonoran Desert, Border Patrol agents spotted a skeleton sprawled in the brush.
The harsh terrain along the southern edge of Arizona is a busy trafficking corridor for illegal immigrants and the remains could have been from a person who died while trying to sneak into the United States. But busy Interstate 8 runs nearby and it also could have been a slain U.S. citizen, a suicide, a runaway.
The Border Patrol is facing criticism for the way it counts the dead along the 2,000-mile U.S.-Mexico border.
"It's rarely a cut-and-dry decision," said Joe Brigman, spokesman for the Border Patrol station at Yuma, Ariz. "In some cases, you just don't know."
The agency says its increased vigilance has helped reduce deaths among illegal immigrants.
Human rights activists, however, say it's in the government's interest to keep its count low. They contend the agency tries to shave the number of deaths by excluding many skeletal remains, car-accident victims and bodies discovered by local law enforcement agencies.
"The American people have the right to know the human cost, the real human cost, of these policies," says Claudia Smith, a San Diego attorney with the California Rural Legal Assistance Foundation.
From documents and other clues found on the body spotted east of Yuma, agents concluded the victim was indeed an immigrant -- among 325 the Border Patrol counted in the fiscal year which ended Sept. 30, down from 340 the year before.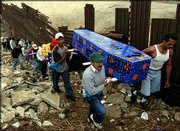 Smith says the counting method is inconsistent from one government agency to the next -- and sometimes even from one Border Patrol sector to another.
For instance, in Arizona, the busiest stretch for illegal entries, the Border Patrol reported a record 177 deaths in fiscal 2004. But medical examiner's offices in Arizona put the toll at around 221.
Andy Adame, spokesman for the Tucson Border Patrol sector, said local law enforcement agencies did not always notify the Border Patrol when they handle the death of a possible illegal immigrant.
Border Patrol officials bristle at the allegation they are undercounting deaths.
"We are very interested in knowing about any death discovered along the border," said Mario Villareal, a spokesman for Customs and Border Protection.
Copyright 2018 The Associated Press. All rights reserved. This material may not be published, broadcast, rewritten or redistributed. We strive to uphold our values for every story published.