Frank Gehry's striking use of sculptural metal may have opened the world's eyes to the work of A. Zahner Co., a family-owned company in Kansas City, Mo.
But artist Shellie Bender wouldn't mind if Gehry -- arguably the world's most prominent architect -- would back off a little.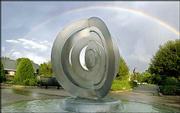 "Frank Gehry is keeping them so busy with his buildings that they have less and less time to work with artists," said Bender, a Lawrence resident who has worked with the company on seven of her sculptures. "I'm fortunate I got in there at a really great time."
One of Bender's most prominent works is "Mobility," which was installed in 1997 outside the Lawrence Visitor Center, 402 N. Second St.
The project was handled by A. Zahner, whose work on design, computer modeling, engineering and fabrication took a year.
"Their craftsmanship is the ultimate," she said. "You can't get any better."
Among Zahner's other clients and projects in Lawrence:
Community Health Facility, 200 Maine.
Dole Institute of Politics, Kansas University's west campus.
Memorial Stadium, KU.
Architecture Studio 804, KU.
Copyright 2018 The Lawrence Journal-World. All rights reserved. This material may not be published, broadcast, rewritten or redistributed. We strive to uphold our values for every story published.