The Rev. Darrel Proffitt had a nice surprise recently.
Proffitt, lead pastor of St. Margaret's Episcopal Church, 5700 W. Sixth St., traveled in late October to Seabury-Western Theological Seminary in Evanston, Ill., where he had earned his master's of divinity and doctorate of ministry degrees, to lead a workshop and attend an alumni dinner.
What Proffitt, 48, didn't know was that the seminary had selected him to receive a major honor, its second annual Alumni Merit Award.
The award is presented each year to a graduate or former student who has brought honor to Seabury by advancing the mission of the Episcopal Church and through scholarly and professional activities that reflect positively on the seminary.
"I went to an alumni dinner, and they made the announcement (of the award). I was surprised, humbled and very moved by it. I believe it is really a reflection of what God is doing here at St. Margaret's. I just try to stay out of the way," said Proffitt, who was called to the Lawrence church in the fall of 1998.
"I have a lot of admiration for that institution (Seabury), the level of scholarship and the depth of spirituality. My overriding feeling is just being very humbled."
Seabury-Western Theological Seminary is one of 11 Episcopal seminaries in the United States. It has about 100 students, most of whom are on the track to earn their master's of divinity, which is the traditional track for becoming an Episcopal priest.
Proffitt earned his master's of divinity from Seabury in 1991. He received his doctorate of ministry in 1999. He graduated in 1979 from Kansas University with a bachelor's degree in education.
Rapid growth
In a letter of recommendation that was read at the Oct. 27 award ceremony, the Rev. John Dally, professor of preaching at Seabury, noted St. Margaret's growth under Profitt's leadership.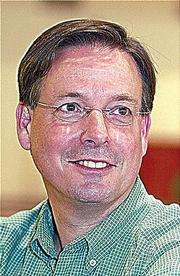 "St. Margaret's was founded a little over 12 years ago and the church has rapidly grown from mission status to self-sustaining parish. This was done despite the problem of losing its founding pastor before their building was completed," Dally's letter reads.
"St. Margaret's is now ranked number two on a list of the fastest growing Episcopal churches in the country, according to a recent survey conducted by the Standing Commission on Domestic Mission and Evangelism."
In his ministry, Proffitt reaches out beyond his own congregation, according to Dally.
"Through Darrel's dynamic, creative and faithful leadership, St. Margaret's continues to reach out to many in the greater Lawrence community, meeting them where they are and helping them to grow as an ecumenically diverse, welcoming community, following Jesus Christ and exercising the ministry God has given each of them," the Seabury professor's letter reads.
Why does Proffitt think the seminary chose him for the award?
"I'm not real sure," he said, laughing. "It says a lot for that particular institution (Seabury) and for the Episcopal Church to recognize a place like St. Margaret's, because we're doing different things than have been done."
Position: Lead pastor, St. Margaret's Episcopal Church, 5700 W. Sixth St., since fall of 1998.Education: bachelor's degree in education, Kansas University, 1979; master's of divinity, Seabury-Western Theological Seminary, Evanston, Ill., 1991; doctorate of ministry, Seabury-Western, 1999.Honors: Recently awarded the second annual Alumni Merit Award from Seabury-Western.Family: wife, Julie; children, Joseph, 23, Emily, 20, and John, 18.
He said that his congregation is eclectic, made up of many people who aren't Episcopalian. The church also tries to "meet people where they are," offering a wide range of worship opportunities, from traditional to more informal, contemporary services.
"Our focus, no matter what the cost, is on maintaining our mission, reaching out to the world in ways that are attractive and removing barriers that might keep people from coming to church," Proffitt said.
Appeals to 'unchurched'
John Pendry, a member of St. Margaret's vestry (a committee of selected lay leaders), was quick to praise Proffitt on receiving the seminary award.
"I tell you, he's the real deal. He's a great leader, very unselfish and faithful in the way he serves the membership of the St. Margaret's family, and the way it radiates into the community," said Pendry, a Lawrence resident and longtime member.
"I think he was very flattered. He is so humbled, though, I think it overwhelmed him. He went up there just expecting to deliver a message to a seminary-age audience. He was floored, and he came back and just glowed."
Pendry said that St. Margaret's, under Proffitt's leadership, has become a church that is open and attractive to those who don't belong to any congregation (often referred to as "unchurched").
At the same time, the church is likely to benefit from major improvements to U.S. Highway 40 and business growth in the northwest part of Lawrence.
"It's a very exciting time. We're not going to be the little church out on the prairie anymore," Pendry said.
Copyright 2017 The Lawrence Journal-World. All rights reserved. This material may not be published, broadcast, rewritten or redistributed. We strive to uphold our values for every story published.