Justin Waynewright Deaver, 16, is a member of Boy Scout Troop 52, chartered to First United Methodist Church, and Venture Crew 2691, chartered to Lawrence Wesleyan Church. He was recognized Oct. 30 during his Eagle Court of Honor ceremony at Centenary United Methodist Church. The Eagle award is the highest rank a Boy Scout can achieve.
Justin joined Cub Scout Pack 3051 in 1995 as a Tiger Cub Scout. He earned the ranks of Bobcat, Wolf, Bear and Webelo. As a Webelo, he earned all 20 individual activity requirements and his Arrow of Light Award.
Justin bridged into Boy Scout Troop 52 in February 2000 and became a member of Venture Crew 2691 in May 2002. Justin has earned 33 merit badges. He has attended camp at Camp Theodore Naish Scout Reservation in Bonner Springs, H. Roe Bartle Scout Reservation in Osceola, Mo., Camp Alexander in Lake George, Colo., and Philmont Scout Ranch in Cimarron, N.M. He has served as a staff member at Camp Naish for the past three years, most recently working in the Camp Trading Post. He has completed his ticket for Brownsea II Leadership Training, and attended and assisted in development of Junior Leadership Training for his troop.
In Troop 52, he has served as historian, assistant patrol leader, patrol leader, instructor and Order of the Arrow troop representative. He is vice president for program in Venture Crew 2691. He is a Brotherhood member of the Order of the Arrow, Boy Scout's national honor camping society, and Tamegonit Lodge, where he has been chapter vice chief, served on the chapter ceremonial and election team, and will serve as the trading post chairman in 2005.
For his Eagle Scout leadership project, Justin redesigned and enhanced an outdoor worship area for Centenary United Methodist Church. The project is known as "Woodhinge of the North" to fellow Scouters. The project was built as a memorial to the late Neil Higginbotham, a member of Centenary United Methodist Church.
Justin is a sophomore at Free State High School, where he is a honor roll student. He is the son of Wayne and Pat Deaver, Lawrence.
¢
About 100 Scouts from Boy Scout Troops 52, 55, 59, 61, 64 and 65 attended the Pelathe District Fall Camporee. The theme was Highland Games and several adult leaders and youth wore kilts as well as other authentic Scottish attire. Scouts participated in events such as a pole toss, straw bale toss, races and tug of war.
The event featured Scottish dishes and a campfire. Stan Langhofer and his son Sam Langhofer played traditional Scottish tunes on the bagpipes and explained the history of the Highland Games, bagpipes and Scottish kilts. Webelos from Packs 3072 and 3370 participated in some of the activities.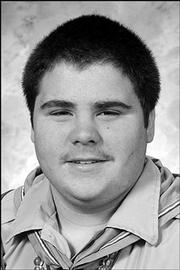 ¢
Boy Scout Troop 52, chartered to the First United Methodist Church of Lawrence, had its semiannual troop elections. Boys were elected to the following positions: Evan Cloar, senior patrol leader; Wes Hinkle, assistant senior patrol leader; Brandon Mailand, troop guide; David Long, quartermaster; Tim Barta, historian; Michael Smith, librarian; Dom Reiske, scribe; and Logan Hinkle, chaplain's aide. Alek Joyce, Peter Bray, Wesley Tedlock and Tristan Wagner were the patrol leaders.
Nick Joseph was appointed Order of the Arrow troop representative. Three recent Eagle Scouts were assigned to the following positions: Justin Deaver, junior assistant scoutmaster; Mason McCurdy, junior assistant scoutmaster; and Bill Berkowitz, assistant scoutmaster.
¢
Cub Scout Pack 3057, chartered to the Lawrence Catholic Schools, had its pack meeting at St. John the Evangelist church. The theme for the month was "Time in a Capsule". Charlie Dominguez presented Tiger Club belt totems to: Fredrick Brou, Brandon Bunting, Austin Dominguez, Aidan Schaplowsky, Ben Witte and Sam Witte. Chris DeGrassi and Shane Munsch presented Tiger Cub belt totems to: Thomas Bach, Michael DeGrassi, Jared Lange, K.J. Lashley, Noah Malsbury, Trevor Munsch and Alex Waite. Luke Turnbull will receive his totem at the next den meeting.
The Bobcat badge was presented to: August Murphy-Beach, Andrew Chavez, Eric Glogau, Jack Powell, Elias Schneck, Kyle Vogelsang, Monte Scott Turner II, John Abney, Franklin Brou and Jack Lange.
Copyright 2017 The Lawrence Journal-World. All rights reserved. This material may not be published, broadcast, rewritten or redistributed. We strive to uphold our values for every story published.