Avondale, Ariz. — If Ryan Newman could find a way to shift his qualifying magic to the races, he would be a solid contender for the Nextel Cup championship.
Newman, one of 10 drivers who qualified for the new 10-race championship run on NASCAR's top circuit, easily won his series-leading ninth pole of the season and fourth in a row in qualifying Friday.
This one, the 27th pole in 114 races for the racer known as Rocketman, was a record effort. His lap of 135.499 mph in a Dodge on the 1-mile Phoenix International Raceway oval, easily topped the mark of 134.178 set in 2000 by teammate Rusty Wallace.
It was Newman's third straight pole here.
Unfortunately, for the third-year Cup standout, none of the poles this season has resulted in victory. Newman's only win came in June at Michigan, where he started fourth.
His last three poles, giving him a chance to rebound from some early adversity in the championship chase, have resulted in finishes of 14th, third and 17th. That has left the Penske Racing South driver seventh in the standings heading into Sunday's Checker Auto Parts 500.
Newman hasn't given up despite trailing series leader Kurt Busch by 186 points with only three races remaining.
"We're definitely in the chase mathematically," Newman said. "Is it a long shot? Sure."
Newman is aware of his failure to take advantage of superior starting positions.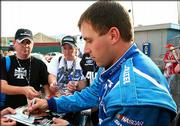 "You win some and you lose some, whether it's on Friday or Sunday," he said. "It's not necessarily disappointing, we just wish we could have capitalized on having the fastest race car."
There was no doubt who was fastest Friday, when rookie Brian Vickers took the second spot at just 133.879 mph.
Starr takes truck race
Avondale, Ariz. -- David Starr won the NASCAR truck series race after dominant Ted Musgrave fell out of contention because of a flat tire Friday at Phoenix International Raceway.
Musgrave appeared to be working his way back into the championship battle in the Craftsman series before his right front tire let him down in the Chevy Silverado 150.
Instead of a victory for Musgrave and a three-man title chase over the last two races of the season, the championship probably will be decided between Bobby Hamilton and Dennis Setzer.
"I think Jack had the strongest truck out there today," said Starr, who inherited the lead when Musgrave suddenly slowed with his flat tire on the 123rd of 150 laps on the 1-mile oval. "But my guys kept making all the right adjustments all day and we were able to hold off my teammate, Jack Sprague, at the end."
Junqueira tops qualifying
Mexico City -- Bruno Junqueira used new springs and soft tires Friday to run the fastest lap on the first day of qualifying for the Champ Car finale, shaving a point off Sebastien Bourdais' championship lead.
Copyright 2018 The Associated Press. All rights reserved. This material may not be published, broadcast, rewritten or redistributed. We strive to uphold our values for every story published.