Chicago — As dominant as Alonzo Mourning was in his second game since having a kidney transplant, he promises to be better.
Mourning made back-to-back shots in the second overtime, and the New Jersey Nets held on to beat the Chicago Bulls, 111-106, Friday night. Mourning played 26 minutes, finishing with 17 points on five-of-five shooting, six blocks and five rebounds.
"I feel fine," said Mourning, who had a kidney transplant last Dec. 19. "I know what I'm capable of doing and I've still got a ton of room for improvement. I expect more from myself. I've just got to continue to improve and progress, and the only way I'm going to do that is to continue to play."
Richard Jefferson just missed a triple-double, finishing with 26 points, a career-high 21 rebounds and nine assists -- including dishes to Mourning on the final two shots. The Nets won despite blowing a 27-point lead.
Kirk Hinrich scored 17 of his career-high 34 points in the third quarter, leading the Bulls on a furious rally in their season opener.
Rookie Luol Deng had a double-double in his first NBA game, finishing with 18 points and 10 rebounds.
But the Bulls fell short, going three-of-16 in overtime.
"It was tough," said Hinrich, who was cramping up in overtime. "Especially when you get down by so much, you spend so much energy to get back in the game."
Spurs 105, Lakers 96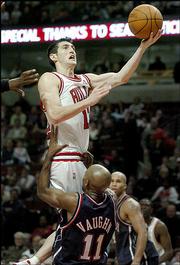 Los Angeles -- Tim Duncan led five players in double figures with 26 points and 16 rebounds. Manu Ginobili added 18, Tony Parker 16, Rasho Nesterovic 14 and reserve Brent Barry 13 for San Antonio. Kobe Bryant scored 28 points in 45 minutes, and Lamar Odom added 24 points and 11 rebounds as the Lakers (1-2) lost their second straight. They shot a franchise-low 29 percent in a 104-78 defeat Wednesday at Utah, when Bryant had 38 points.
Pacers 100, Celtics 94
Boston -- Ron Artest scored 28 points, and Jermaine O'Neal added 19 to lead Indiana past Boston. Indiana, playing without Reggie Miller, Jonathan Bender, Jeff Foster and Anthony Johnson because of injuries, improved to 2-0 this season and extended its winning streak against Boston to eight games.
Raptors 101, Pistons 89
Toronto -- Loren Woods had 17 points and a career-high 14 rebounds, and Vince Carter scored seven of 12 points in the final three minutes to help Toronto improve to 2-0.
Suns 108, 76ers 98
Philadelphia -- Amare Stoudemire scored 29 points, Shawn Marion had 24, and Joe Johnson 22 to lead Phoenix over Philadelphia. The young, athletic Suns have made an early impact, blowing out Atlanta in a 30-point win and running out to a 21-point, first-half lead against the Sixers.
Rockets 89, Grizzlies 81
Memphis, Tenn. -- Tracy McGrady scored 30 points and had nine assists, leading Houston past Memphis. Jim Jackson scored 14 points, and Juwan Howard had 11 points for the Rockets, who avoided becoming the sixth team in club history to start 0-3 despite being in foul trouble all night. Houston played its third straight on the road. Memphis was led by Pau Gasol with 21 points.
Magic 90, Hornets 89
New Orleans -- Steve Francis has his new franchise 2-0. Francis hit his second game-winner, soaring into the lane to put back Pat Garrity's missed three-pointer with 2.7 seconds left that gave Orlando a victory over New Orleans. Baron Davis' 36 points kept the Hornets in the game.
Blazers 94, Clippers 81
Portland, Ore. -- Theo Ratliff tied both his career and the franchise mark with nine blocked shots as Portland beat Los Angeles. Zach Randolph, who recently signed a six-year, $84 million contract extension, scored 14 points and had 14 rebounds as Portland put together back-to-back victories to open a season for the first time since 1999, when the team started 4-0.
Sonics 106, Hawks 85
Seattle -- Rashard Lewis brought his game at both ends, scoring 23 points and blocking five shots, leading Seattle over Atlanta. Ray Allen scored 25 points, and Antonio Daniels added 12 as the Sonics won their home opener for the seventh straight year.
Jazz 102, Warriors 80
Oakland, Calif. -- Keith McLeod had 17 points and 10 assists, and Carlos Boozer added 16 points and nine rebounds for Utah in a victory over Golden State. Andrei Kirilenko scored 14 points for the Jazz.
Copyright 2018 The Associated Press. All rights reserved. This material may not be published, broadcast, rewritten or redistributed. We strive to uphold our values for every story published.