Columbia, Mo. — As Missouri's offense struggles, some on the other side of the ball believe they need to score more for a team that has lost three games in a row and mustered no touchdowns in the past six quarters.
"We just have to place more of a burden on our shoulders," Tiger safety Jason Simpson said. "Instead of looking for the offense to make points, we need to go out there and make points, too."
Without starting tailback Damien Nash -- suspended by coach Gary Pinkel last week but reinstated Monday -- the Tigers managed just 51 yards on 35 carries in a 24-3 loss Saturday against Nebraska. The Tigers could not reach the end zone against a Nebraska defense that last month allowed 70 points to Texas Tech.
All the while, the Missouri defense is allowing just 277.4 yards per game, leading the Big 12 and ranking ninth nationwide.
Though the coaching staff puts a lot of stock in forcing turnovers, the Tigers failed to get a takeaway Saturday for the first time this season. And Simpson says some of the blame for the loss rests with the Tiger defense.
"Every time you get a ball on the ground, you gotta try to scoop and score, or at least set up great field position for our offense," he said. "We didn't do that."
Nash will be back in the fold when the Tigers (4-4, 2-3 Big 12) face Kansas State (3-5, 1-4) today. And while the Tigers will continue making adjustments to try to capitalize on what opposing defenses are giving them, Pinkel said no significant offensive changes are forthcoming.
"I don't think you do that," he said. "You just try to do other things within your offense. We're not gonna change our offense or what we do."
Most of the offense's struggles have been in the running game, particularly for quarterback Brad Smith. After averaging 1,217 rushing yards the past two seasons, Smith has managed just 435 yards this year.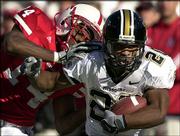 Pinkel said defenses are bringing more players closer to the line of scrimmage, making it difficult for Smith to break through and reach the secondary.
Smith's inability to run -- his best attribute -- has forced the Tigers to rely on its passing game. Against Nebraska, Smith threw for 277 yards on 24-of-56 passing but struggled with his accuracy.
"We don't sit around here and feel sorry for ourselves," Pinkel said. "I have been very pleased with the efforts of our football team, but (losing) does take its toll."
Benefiting from the increased emphasis on the pass, Missouri wide receiver Thomson Omboga had eight catches for a career-high 96 yards against the Cornhuskers.
"We obviously know that our defense is playing real great and doing a good job of getting us the ball back," Omboga said. "They've been playing their hearts out for us, so we're gonna have to do something to get some points on the board and keep them off the field."
As for the defense needing to score points for the Tigers to win, Omboga said "it shouldn't be like that."
"We have enough playmakers on offense that we should be able to score our own points," he said.
Copyright 2018 The Associated Press. All rights reserved. This material may not be published, broadcast, rewritten or redistributed. We strive to uphold our values for every story published.