Jerusalem — Israel is determined to keep Yasser Arafat out of Jerusalem even in death, with one Cabinet minister saying Friday that the holy city is reserved for the burial of Jewish kings, "not Arab terrorists."
Palestinian officials said that it was inappropriate to talk about funeral arrangements as long as their 75-year-old leader clings to life at a Paris hospital. A hospital spokesman said Friday Arafat was hovering "between life and death" in a coma, no worse but also no better than he was a day earlier.
One official said Palestinian leaders are hoping to enlist international support for a burial at the Al Aqsa Mosque compound in Jerusalem, Islam's third-holiest shrine, which was built on the ruins of the biblical Jewish temples.
The top Muslim cleric in Jerusalem weighed in for the first time Friday, saying Arafat requested burial near Al Aqsa when the two met four months ago. The comments by Ikrema Sabri, marked the first official comment on Arafat's wishes.
The way the dispute is resolved could signal how Israel and the emerging Palestinian leadership -- Prime Minister Ahmed Qureia and his predecessor, Mahmoud Abbas -- will get along in the future.
Palestinian officials said a generous Israeli gesture, such as allowing burial in Jerusalem, could go a long way toward building trust destroyed in four years of fighting. However, Israel fears acceding to such a request would strengthen Palestinian claims to the traditionally Arab sector of the city as a future capital.
Arafat is reviled by many Israelis, and seeing him interred near Judaism's holiest site would draw public outrage. Israeli Justice Minister Yosef Lapid said, "He will not be buried in Jerusalem because Jerusalem is the city where Jewish kings are buried and not Arab terrorists."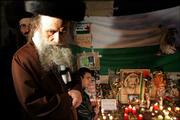 His blunt remarks came despite Prime Minister Ariel Sharon's order to government officials to keep a low profile and avoid antagonizing the Palestinians.
Rival political and militant Palestinian factions trying to pave the way for a post-Arafat leadership met twice Friday in Gaza City and agreed to set aside major differences.
Militant groups also strengthened their resolve to be part of a new "national unified leadership" that would formally incorporate them into the Palestine Liberation Organization.
"We are meeting to show our solidarity in this crisis and to show we are a people who will together fight for our freedom," Islamic Jihad spokesman Mohammed al Hindi sai.
Copyright 2018 The Lawrence Journal-World. All rights reserved. This material may not be published, broadcast, rewritten or redistributed. We strive to uphold our values for every story published.